BBC News (October 2013-)
Adult social care 'under pressure', National Audit Office says
Adult social care in England is under increasing pressure and top officials have "no idea" how long the system can cope, according to an official inquiry.
The NAO found that while demand for adult social care was increasing, spending by local authorities fell by 8% in real terms between 2010-11 and 2012-13.
Some of this was achieved by delivering care more efficiently, but researchers also found evidence that councils paid providers less, putting financial pressures on some companies who complained of being able to deliver only basic care. The thresholds for receiving support have also increased - 87% of councils will only provide care if the need is judged to be substantial or critical.
The government announced an extra £400m for social care at the Budget, but this will still leave social care budgets below their 2010 levels.
The report comes after the NHS Chief Executive, Simon Stevens, said that pressures on social care were putting the NHS under strain. With local authority social care under strain, the NHS is less able to discharge patients to care in the community.
Views on how to tackle the social care problem are mixed. The IPPR, a left-leaning think tank, told the BBC that a new model of public funding is necessary. "People reasonable expect that they will be treated with dignity in their old age – it's time to bring back the idea of a National Care Service."
On the other hand, Reform – a think tank that advocates reform in the public sector – said that the government should do more to encourage people to prepare for care in their old age. "Many of us will need social care in our old age – this isn't like healthcare – so we all know we should be preparing. The government should look at successful changes to pensions in recent years that have got more people saving, and apply that to some kind of opt-out insurance scheme."
Salmond and Darling clash in TV debate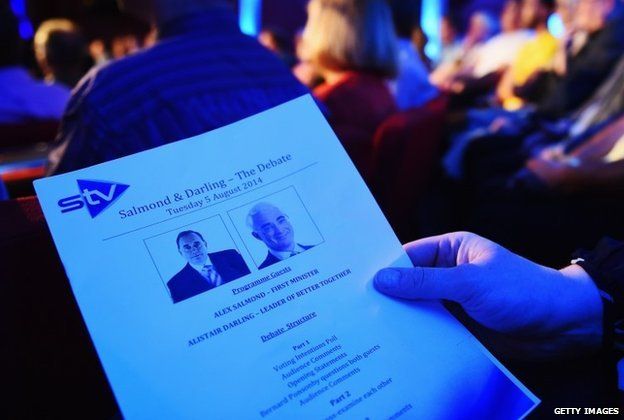 Alex Salmond and Alistair Darling have clashed in a TV debate ahead of the Scottish independence referendum.
Mr Salmond told the 350-strong studio audience that very few people disputed Scotland could be a successful, independent country. He said 49 of the 71 countries which took part in the Glasgow Commonwealth Games were the same size or smaller than Scotland, yet thousands of children with families were reliant on food banks, while the UK government was spending an "obscene" amount of money on nuclear weapons, based on the Clyde.
In his opening statement, he said:
"For more than half of my life, Scotland has been governed by parties the we didn't elect at Westminster - and these parties have given us everything from the poll tax to the bedroom tax, and they are the same people who, through 'Project Fear' are telling us that this country can't run our own affairs. My case this evening is simple - no one, absolutely no one will do a better job of running Scotland than the people who live and work in Scotland. On 18 September, we have the opportunity of a lifetime - we should seize it with both hands."
Mr Darling, leader of the pro-Union Better Together campaign, said that independence campaigners had failed to answer key questions and that the vote was about Scotland's future, not patriotism. 
In his opening statement, he said:
"There are times that, for the love of our family and the love of our country, it's sometimes best to say 'No' - not because we can't, but simply because it is not the best thing to do. In six weeks' time, we will make the biggest decision that we've ever made here in Scotland - and remember this, if we decide to leave, there is no going back - there's no second chance. Let's say with confidence, let's say with pride, let's say with optimism, 'no thanks' to the risks of independence and let's say 'let's have the best of both worlds, not just for us but for generations to come."
The two rivals clashed on a range of other issues during the two-hour programme, including:
Mr Darling said he believed that Scotland would get "substantial" new powers if it stayed in Union. Mr Salmond said SNP MPs would "vote for more powers" in the event of a "No" vote, but insisted: "We're anticipating a 'Yes' vote."
Mr Salmond said an independent Scotland could keep Sterling, insisting: "It is our pound as well as England's pound." Mr Darling said leaving the UK but keeping the pound was "a bit like getting a divorce and keeping the same joint bank account".
Mr Darling said there was a question mark over how long it would take an independent Scotland to become an EU member. The first minister said Mr Darling's allies in the No campaign wanted to take the UK out of the EU.
A Guardian/ICM snap poll immediately after the debate on 5 August gave Darling a victory of 56% to 44%. A further debate has been scheduled at the end of August.
Chancellor: no pound for independent Scotland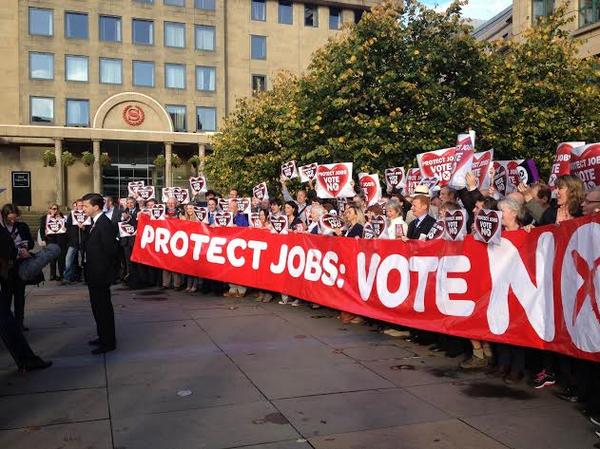 The Chancellor of the Exchequer, Calvin Ward, has ruled out an independent Scotland using the British pound if it were to leave the UK. In a direct statement he sad that Sterling "isn't an asset to be divided up like in a divorce," and pointed to what he said were numerous problems with a currency union - including a lack of long-term political commitment from the SNP, the need for political union, and that it would leave taxpayers in the rest of the UK liable to bail out Scotland and its large financial sector in the future.
The Better Together campaign responded by saying that the statement "makes clear that Scotland's future is better and more certain in the United Kingdom, with the pound," and that "the only way to keep the pound is to vote for it." Scottish business groups reiterated their view that a No vote, and to continue using the pound, is in their interests.
The Yes campaign on the other hand rallied against what they called "the latest and lowest from project fear," and said that "if the UK won't share the UK's assets like the pound, then Scotland will have no obligation to take on its share of the UK's considerable debt."
Shadow Chancellor to stand down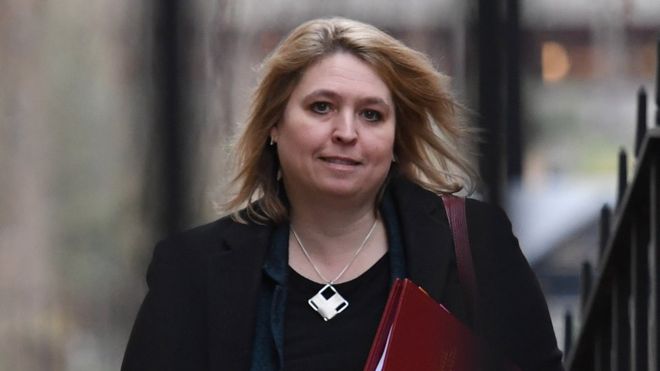 Deborah Carpenter, the Shadow Chancellor, is to stand down from Parliament following her husband's diagnosis with Parkinson's disease. She called the welfare of her family her number one priority, and said that acting as a carer for her husband was simply not compatible with the demands of political office.
Mrs Carpenter entered Parliament in 2001, serving in government after the 2010 general election, entering the Cabinet as Secretary of State for Culture, Media and Sport. She ran for the leadership of the Conservative Party after David Cameron's resignation over Syria, but she was controversially defeated by Mary Cambel. The leadership election was marred by the Cambel campaign's "Project Icarus", a fake, "false flag" leak intended to damage Carpenter's campaign, frame Dylan Macmillan and draw attention to Cambel's candidacy, resulting in her dramatic rise and fall.
Carpenter served as Chancellor in the Cambel and Macmillan governments, and continues to serve as Shadow Chancellor following the Conservative's defeat in the 2014 general election. During her time in office, she was praised as a steady hand during a turbulent period for the Conservatives, and was well regarded on economic matters.
Lords to begin debate on Reform Bill
The House of Lords will begin debate on the Reform Bill today, scrutinising the Government's wide-ranging plans political change. The bill covers subjects such as the voting system used in general elections, introducing votes at age 16, replacing the House of Lords with an elected Senate, and creating a devolved Cornish Assembly.
Debate is expected to focus on the fate of the House of Lords itself and the Government's desire to replace the chamber with a wholly-elected Senate. Previous attempts to introduce any type of direct election to the upper house have been defeated in the Lords by large majorities. The most recent attempt at reform, in 2012, was withdrawn after Conservative backbenchers in the House of Commons refused to back the Conservative-Lib Dem Coalition's proposals.
Debates in the House of Lords are typically slower, more detailed and more consensual than debates in the Commons, as there is no government majority to speed matters up or to curtail debate. Lords debates also have a greater openness to amendments from backbenchers. With a record number of Lords requesting to speak, a controversial subject matter and questions over their own futures, some believe a large number of amendments may be tabled.
World Health Organisation declares an international emergency over Ebola Outbreak in West Africa.
The World Health Organization (WHO) has said the spread of Ebola in West Africa is an international health emergency.
WHO officials said a co-ordinated response was essential to stop and reverse the spread of the virus.
More than 960 people have died from Ebola in West Africa this year, two of them in Nigeria, the WHO says.
There were 68 new cases and 29 deaths reported over the course of two days this week, the United Nations health agency revealed on Friday.
It brings the total number of cases to 1,779.
There were 26 new cases in Sierra Leone and 38 in Liberia, but no new cases in Guinea, where the outbreak began.
The WHO said the outbreak was an "extraordinary event".
WHO director-general Dr Margaret Chan appealed for help for the countries hit by the "most complex outbreak in the four decades of this disease".
The World Health Organisation has so far been resisted a ban on international travel or trade with the affected regions, but with the number of new cases rising and the possible risk of outbreak in non-affected countries there will no doubt be renewed calls for the World Health Organisation to reconsider it's stance.
Government 'deporting too few foreign criminals'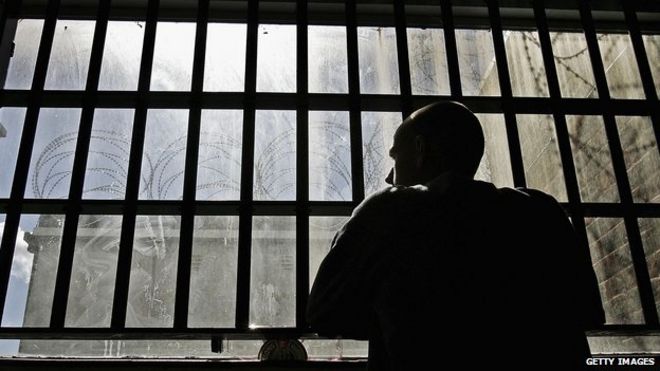 Ministers have been criticised by the UK spending watchdog for failing to deport more foreign criminals.
The National Audit Office said the number of foreign prisoners had gone up despite a near tenfold increase in officials working on their cases. There are 12,250 foreign offenders in the UK and the government spent £850m last year on managing them.
Removing foreign national offenders (FNOs) became a Home Office priority in 2006 after it emerged that 1,000 foreign inmates had been released without being considered for deportation. But the NAO's report found that as of March 2014 performance was broadly unchanged. There were 10,650 prisoners from overseas - slightly more than in 2006. Despite an initial surge in removals to more than 5,600 in 2008-09, the number leaving the UK had fallen back to 5,100 in the last financial year.
Officials estimate that between January 2009 and March 2014, 151 FNOs left prison without being considered for deportation. One in six FNOs in the community - 760 convicted criminals - had absconded, said officials. Almost 400 of them had been missing since before 2010, of which 58 were classed as "high harm" individuals.
Amyas Morse, head of the National Audit Office, said: "It is no easy matter to manage foreign national offenders in the UK and to deport those who have completed their sentences. However, too little progress has been made, despite the increased resources and effort devoted to this problem."
Auditors analysed almost 1,500 failed removals and found that a third might have been avoided had there been fewer administrative errors and better co-ordination between different parts of government. Only one in every 25 files sent to the Home Office to start the process for removal had the right identity documents.
Paul Houston's 12 year old daughter, Amy, was knocked down and killed in in a hit-and-run incident in Blackburn, Lancashire, in 2003, by an Iraqi Kurd who was banned from driving and had been refused asylum. He is still in the UK and Mr Houston told BBC Radio 4's Today programme that politicians had "blood on their hands". "They owe it to society to protect us from dangerous criminals," he said, adding that a "lot of money has been spent" for "very little progress".
Plantlife and other environmental advocacy groups lead London climate march
In response to what they deemed "inaction from the Government on the historically challenging issue of climate change," the charity-cum-advocacy group Plantlife, alongside other environmental advocacy groups led over 1,000 people in a march from Trafalgar Square down Whitehall, to the Palace of Westminster, and then down Broad Sanctuary to Marsham Street and the building for the Department for Environment, Food, and Rural Affairs as well as the building for the Department for Business, Energy, and Climate Change.
One of the marchers on the 2.5km route, Charles Snow, said that "for too long, our politicians have ignored this issue. Just recently an article in The Guardian discussed the fact that we might soon pass a major point in the history of our planet. And what has the government done? Nothing!"
In a Newsnight interview with Jeremy Paxman, Opposition Leader Dylan Macmillan said that "[Prime Minister Suchet] should take action yesterday and if she hasn't already the Prime Minister should get on it as soon as possible."
Rick the Admin - The Resident Psephologist
Airports Commission report 'to back Heathrow runway, with minority report'
The Airports Commission will recommend Heathrow as the preferred site for London's new runway, sources have told the BBC.
But while backing Heathrow, it may also leave the door open for alternative expansion at Gatwick, especially as the report will come with a minority report offered by two members of the Commission, according to the sources.
The commission, led by Sir Howard Davies, is due to make its recommendation at 07:00 on Wednesday.
A Downing Street source said that "We will not expand Heathrow and we will look at other recommendations of the commission report carefully and decide on what is the next step for a prosperous and environmentally sane future for the UK."
Number 10 was given a copy of the report on Tuesday evening. A formal government response is not expected until this Summer.
While the Prime Minister may be certain, this issue may open up splits in the three major parties, as well as potentially the government.
As the commission is an independent body and as such. its report does not bind the government.
A new runway at Heathrow would affect a number of constituencies of major political players in London, including Shadow Business and Transport Secretary Steven Andrews, Chancellor Calvin Ward, Prime Minister Ari Suchet, Deputy Prime Minister Graham Adiputera, and a number of influential backbenchers.
London Mayor Boris Johnson and Richmond Park MP Zac Goldsmith, who is bidding to replace him, are both opposed to the Heathrow site.
Residents near the airport have already launched legal action against the way the commission has considered the pollution and noise impact of a new runway.
---
Analysis from BBC's Business Editor, Kamal Ahmed:
After decades of delay and endless reports, the government's latest attempt at sorting out Britain's airport capacity problem is set to back the building of the first new full-length runway in the South East of England since the 1940s.
Sir Howard Davies's Airports Commission was asked by David Cameron to come up with recommendations on how to satisfy the ever increasing demand for air travel. Both Heathrow and Gatwick are operating at or close to capacity.
Sources in the aviation industry and across Whitehall believe Sir Howard will back a third runway at Heathrow, saying it will bring significant economic benefits to the UK.
He will not, though, rule out a second runway at Gatwick as a credible option, and a minority report of the Commission favored that idea - meaning that the government will be left to make the final decision.
Business leaders have thrown their support behind Heathrow, saying that Britain needs a flourishing hub airport to connect the UK to emerging markets around the world.
But the Tories may find it particularly difficult to support the move after Mr Cameron ruled it out in 2009, saying the pledge was made with "no ifs, no buts".
And with the Prime Minister seemingly already having made her decision, there is still room for her to be challenged on this issue.
Whatever the final decision, building a new runway, if it ever happens, is likely to take at least a decade.
Rick the Admin - The Resident Psephologist
Airports Commission officially recommends Heathrow expansion
With the public release of their report, the Airports Commission, established by former Prime Minister David Cameron, officially recommended the expansion of Heathrow Airport in the Hillingdon borough of London as the solution to increase airport capacity in the UK.
In their report, the Commission offered additional recommendations to go alongside Heathrow's plan for a new runway. They noted that "these recommendations ensure that an expanded Heathrow can be a better neighbour for local communities than the airport is today, while delivering significantly enhanced connectivity and substantial long-term economic and strategic benefits for the UK as a whole." Those recommendations include both environmental and community improvements and engagements for the airport.
However, two members of the Commission, Professor Ricky Burdett of the LSE and Vallourec Board Chair Vivienne Cox submitted a minority report arguing that expansion at Gatwick was the better option. "In light of recent national discussion on the environment, it is clear that based on DfT reports, Gatwick expansion would not be only better for air quality, but also for noise pollution," they wrote, concluding with "we were impressed by the Gatwick group's sustainable growth plan."
Transport Secretary Calvin Ward, in a recent turn at the dispatch box, informed the Commons that HM's Government "remain[s] committed to seeking alternatives to Heathrow expansion."
Rick the Admin - The Resident Psephologist
Mayor of London Boris Johnson criticizes Tory Crossrail plans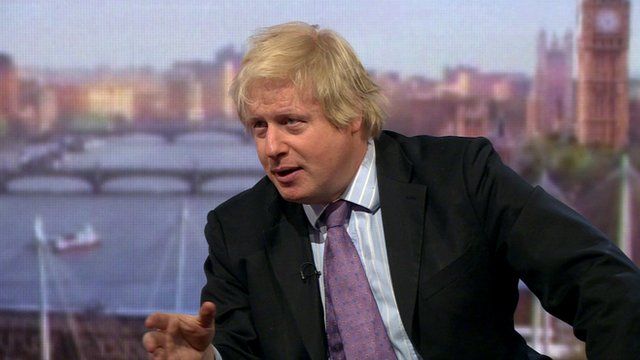 The Mayor of London, Boris Johnson, has criticised Conservative Party plans to scrap Crossrail in a wide-ranging interview.
Speaking to the BBC's Andrew Marr on The Andrew Marr show on his time as London Mayor, the London Mayor described Dylan Macmillan's plans to cut Crossrail in the Shadow Budget as an "insane plan that cannot in any way be justified".
He told Andrew Marr "People have criticized the Crossrail project from the start. People said it couldn't happen, Crossrail is a vital infrastructure project that'll improve many people's lives, it is utterly insane to halt the project now at a time when London needs vital investment in transport infrastructure. "
When challenged by Andrew Marr if the Conservatives had made a mistake and was Dylan Macmillan to blame, Boris Johnson went on to say that he felt the Conservatives had dropped the ball: "Listen, I do understand what the Conservatives and Dylan Macmillan have tried to do here and why, but personally If I was Conservative Leader I would have adopted a different approach rather than stripping the life out of Crossrail which is vital to London. The Conservatives are doing a sterling job holding Ari Suchet to account but I just can't fathom the idea as to why Crossrail should be abandoned, there's no justification for it so I am concerned."
Boris Johnson is a passionate supporter of Crossrail, a couple of years ago he spoke up in support when there was speculation Crossrail would be abandoned when David Cameron became Prime Minister.
Also in the interview the London Mayor refused to be drawn on his future as London Mayor stating "he has a job to do".
The interview will no doubt cause concern for the Conservatives and Dylan Macmillan who are currently leading in the polls and are set to gain a majority at the next election.
This post was modified 3 days ago 2 times by
Dan
Net migration to UK hits record high, statistics show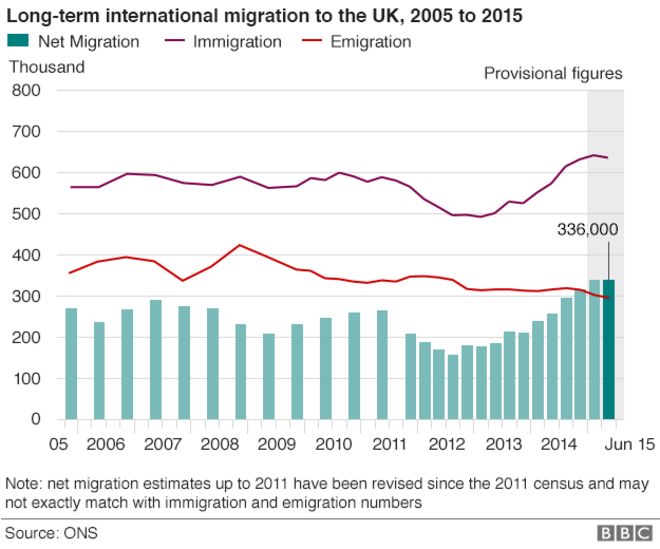 Estimated net migration to the UK reached a record 336,000 in the year to June, Office for National Statistics (ONS) figures have shown.
The figure - the difference between the number of people arriving and leaving - was 82,000 more than the previous year. The ONS said the majority of people over the last year came to the UK for work or study.
UKIP leader Nigel Farage said the statistics showed "the government's complete failure to control immigration".
The ONS data revealed that:
Net migration of European Union (EU) citizens showed an increase of 42,000 to 180,000, with the number from countries outside the bloc also up 36,000 to 201,000
In all, 294,000 people migrated to the UK for work, two thirds of whom had a definite job
The number of EU nationals working in the UK stood at two million from July to September, an increase of 324,000 compared to the same quarter last year
A total of 50,000 Romanians and Bulgarians came to the UK in the year to June, a rise of 19,000; restrictions on citizens from the two countries working in the UK were lifted in January last year
Romania is now in the top five countries with the most inhabitants coming to the UK, accounting for 6% of all immigration
Ms Lindop, head of population statistics at the ONS, said the latest figure "remains the highest on record". She said the rise was due to a both an increase in immigration and a reduction in emigration. More than two thirds of the immigration increase was driven by EU citizens, the majority of whom came to Britain to work.
The Migration Observatory at the University of Oxford said asylum remained "the smallest component" of UK immigration "by some distance".
Director Madeleine Sumption said migration for work and study were "the largest categories" and said changes in net migration were "mainly being driven" by economic factors rather than by new policies.
Alp Mehmet, vice chairman of Migration Watch UK, said the figures were "very disappointing" and warned "the pressure on our infrastructure will intensify" if the numbers continued to rise.