Will Croft elected Leader of the Conservative party
South Pacific nations agree new alliance to counter China
Budget 2016: Chancellor faces global slowdown
Ministers embarrassed by 'Legion' leak
{"effect":"fade","fontstyle":"normal","autoplay":"true","timer":4000}
BBC World News (May 2010-September 2013).
May 2010
Eurozone approves massive Greece bail-out
Eurozone members and the IMF have agreed a 110bn-euro (£95bn; $146.2bn) three-year bail-out package to rescue Greece's embattled economy. In return for the loans, Greece will make major austerity cuts which Prime Minister George Papandreou said involved "great sacrifices". The EU will provide 80bn euros in funding and the rest will come from the International Monetary Fund (IMF). The deal is designed to prevent Greece from defaulting on its massive debt.
The IMF is expected to approve its portion of the loan this week, IMF managing director Dominique Strauss-Kahn said. In return for the financial support, the Greek government has unveiled a fresh round of sweeping efficiencies, including further tax rises and deeper cuts in pensions and public service pay.
The Greek economy is still deep in recession and on Sunday the government forecast that GDP would fall by 4% in 2010. The country's national debt - currently at about 115% of GDP - would rise to 149% by 2013 before falling, it added. Mr Papandreou told a televised cabinet meeting that active and retired public sector workers would bear the brunt of the new wave of budget cuts. "With our decision today our citizens will have to make great sacrifices," he said, describing public anger at the new wave of cutbacks as "evident". "Our national red line is to avoid bankruptcy," Mr Papandreou said, adding that "no-one could have imagined" the size of the debt that the previous government, which left office last year, had left behind.
New emergency legislation authorising the cuts and tax rises is now being drafted and is due to be put before parliament for approval by the end of the week. However unions have vowed to fight the round of austerity measures. The third nationwide general strike in as many months is scheduled for Wednesday. German Chancellor Angela Merkel said Greece's austerity plans were "very ambitious" and would spur other troubled eurozone members to do all they could to avoid the same fate. "These countries can see that the path taken by Greece with the IMF is not an easy one. As a result they will do all they can to avoid this themselves," Mrs Merkel told the Bild am Sonntag newspaper.
June 2010
Gaza flotilla: Turkey threat to Israel ties over raid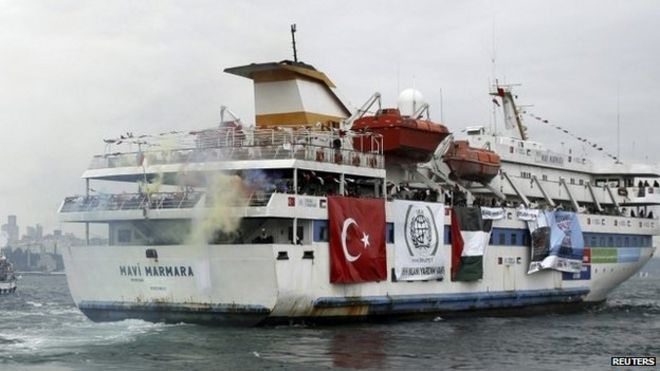 Turkey says it might reduce economic and defence ties with Israel following the deadly raid on a Gaza aid flotilla. Deputy PM Bulent Arinc said Ankara was "assessing deals with Israel", once its close ally. Nine people, mostly Turkish activists, died when Israeli troops stormed a ship trying to break Israel's blockade of Gaza on Monday. Turkish PM Recep Tayyip Erdogan said he did not view Hamas, which runs Gaza, as a terrorist organisation.
In Istanbul on Friday, thousands of people waving Turkish and Palestinian flags and shouting anti-Israeli slogans joined a rally at a memorial service for one of those killed in the raid. Israel has been widely criticised over the incident, which took place in international waters. There are conflicting reports as to what happened - the activists say they were attacked, while Israel says its commandos opened fire in self-defence. Israel says it will not allow aid ships to dock at Gaza, fearing the cargo might contain weapons and other items it wants to prevent reaching Hamas. Mr Arinc said on Friday that all military and economic deals made with Israel were now being re-evaluated, although he suggested no action would be taken immediately.
Israel has been widely criticised over the incident, which took place in international waters. There are conflicting reports as to what happened - the activists say they were attacked, while Israel says its commandos opened fire in self-defence. Israel says it will not allow aid ships to dock at Gaza, fearing the cargo might contain weapons and other items it wants to prevent reaching Hamas. Mr Arinc said on Friday that all military and economic deals made with Israel were now being re-evaluated, although he suggested no action would be taken immediately.
January 2011
Tunisia suicide protester Mohammed Bouazizi dies
A Tunisian graduate whose attempted suicide set off violent protests over unemployment across the North Africa nation has died. Mohammed Bouazizi, 26, sold fruit and vegetables illegally in Sidi Bouzid because he could not find a job. Last month he doused himself in petrol and set himself alight when police confiscated his produce because he did not have the necessary permit.
Public protests are rare in Tunisia and dissent is usually repressed. But recent economic discontent has provoked the most violent unrest in more than a decade. Mr Bouazizi died on Tuesday afternoon in a hospital outside the capital, Tunis.
A crowd estimated at around 5,000 took part on Wednesday in his funeral procession to a cemetery near Sidi Bouzid, union official Kamel Laabidi said. A massive police presence prevented the crowd from reaching the governor's office, outside which Mr Bouazizi had set himself alight, his uncle, Mehdi Horchani, told AFP.
President Zine al-Abidine Ben Ali, who has ruled Tunisia for 23 years, condemned the riots, in which at least one demonstrator died when the security forces opened fire. Officials say the officers retaliated in the central town of Menzel Bouzaiene after coming under attack with Molotov cocktails thrown by the crowd.
The government said the demonstrations, which then spread to the capital, were exploited by the opposition. But the president, who visited Mr Bouazizi in hospital before his death, said that he would seek to find a solution to the problem of unemployment - and has since appointed a new youth minister.
January 2011
Tunisia: President Zine al-Abidine Ben Ali forced out
Tunisian President Zine al-Abidine Ben Ali has stepped down after 23 years in power as protests over economic issues snowballed into rallies against him. Prime Minister Mohammed Ghannouchi has taken over as interim president, and a state of emergency has been declared. Mr Ben Ali left Tunisia with his family, and has since arrived in Saudi Arabia, officials said. Dozens of people have died in recent weeks as unrest has swept the country and security forces have cracked down on demonstrations over unemployment, food price rises and corruption.
A Saudi palace statement said Mr Ben Ali arrived in the country early on Saturday, according to the official SPA news agency. "Out of concern for the exceptional circumstances facing the brotherly Tunisian people and in support of the security and stability of their country... the Saudi government has welcomed President Zine El Abidine Ben Ali and his family to the kingdom," the statement said.
The state of emergency decree bans gatherings of more than three people and imposes a night-time curfew. Security forces have been authorised to open fire on people not obeying their orders.
February 2011
Egypt crisis: President Hosni Mubarak resigns as leader
Hosni Mubarak has stepped down as president of Egypt, after weeks of protest in Cairo and other cities. The news was greeted with a huge outburst of joy and celebration by thousands in Cairo's Tahrir Square - the heart of the demonstrations. Mr Mubarak ruled for 30 years, suppressing dissent and protest, and jailing opponents. US President Barack Obama said that Egypt must now move to civilian and democratic rule.
Announcing Mr Mubarak's resignation, Vice-President Omar Suleiman said the president had handed power to the army. Later an army officer read out a statement paying tribute to Mr Mubarak for "what he has given" to Egypt but acknowledging popular power." "There is no legitimacy other than that of the people," the statement said.
There was jubilation throughout the Middle East and North Africa, including in Tunisia, where people overthrew their own president last month. The anti-government protests that began on 25 January were triggered by widespread unrest in Egypt over unemployment, poverty and corruption. They followed a popular uprising in Tunisia which brought about the downfall of President Zine al-Abidine Ben Ali.
This post was modified 2 years ago 6 times by
Nathan
March 2011
Mid-East unrest: Syrian protests in Damascus and Aleppo
Hundreds of Syrians have staged a rare protest in the capital, Damascus, calling for democratic reforms and the release of all political prisoners. Six protesters were reportedly detained by the security forces, a witness told the BBC Arabic Service. The AP news agency said government supporters later broke up the rally by punching and attacking the protesters. A Facebook group, The Syrian revolution against [President] Bashar al-Assad 2011, is said to have called the march.
Tuesday's march started after noon prayers in the old town of Damascus and fanned out to neighbouring streets, the witness told the BBC. He said the security forces did not use force against the protesters, but detained six of them. He added that more people were expected to join demonstrations after the evening prayers.
President Bashar al-Assad - who came to power in 2000 after three decades of rule by his father Hafez - has moved slowly to open up the economy, but his administration does not tolerate any dissent. There are thousands of political prisoners in Syrian jails, and major opposition groups are banned. The government also blocks access to several internet sites and maintains strict control of the media. In January, President Assad told the Wall Street Journal that Syria was more stable than Tunisia and Egypt. He said that there was no chance of political upheaval, and pledged to press on with a package of reforms.
May 2011
Osama Bin Laden, al-Qaeda leader, dead - Barack Obama
Al-Qaeda leader Osama Bin Laden has been killed by US forces in Pakistan, President Barack Obama has said. Bin Laden was shot dead at a compound near Islamabad, in a ground operation based on US intelligence, the first lead for which emerged last August. Mr Obama said US forces took possession of the body after "a firefight". Bin Laden is believed to have ordered the attacks on New York and Washington on 11 September 2001 and a number of others. He was top of the US' "most wanted" list.
Bin Laden was buried at sea after a Muslim funeral on board an aircraft carrier, Pentagon officials said. Announcing the success of the operation, Mr Obama said it was "the most significant achievement to date in our nation's effort to defeat al-Qaeda". The US has put its embassies around the world on alert, warning Americans of the possibility of al-Qaeda reprisal attacks for Bin Laden's killing.
US media reports said that the body was buried at sea to conform with Islamic practice of a burial within 24 hours and to prevent any grave becoming a shrine. Giving more details of the raid, one senior US official said a small US team conducted the attack in about 40 minutes. Three other men - one of Bin Laden's sons and two couriers - were killed in the raid, the official said, adding that one woman was also killed when she was used as "a shield" and two other women were injured. One helicopter was lost due to "technical failure". The team destroyed it and left in its other aircraft.
Afghan President Hamid Karzai said Bin Laden had "paid for his actions". Pakistani Prime Minister Yusuf Raza Gilani said the killing was a "great victory" but added that he "didn't know the details" of the US operation. Former US President George W Bush described the news as a "momentous achievement".
August 2011
Libya unrest: Rebels overrun Gaddafi Tripoli compound
Libyan rebels have taken control of Col Muammar Gaddafi's Bab al-Aziziya compound in Tripoli, one of the final areas that remained under his control. TV footage showed fighters breaking off the head of a statue of the Libyan leader and kicking it along the ground. They also seized items from his home. It is not known if Col Gaddafi or any of his family are inside the compound. Rebel leaders say they are in control of almost all of the capital, though there are still pockets of resistance.
Heavily armed fighters had streamed into the capital on Tuesday morning in dozens of pick-up trucks to take part in the attack on Bab al-Aziziya. After five hours of intense fighting, they breached one of the main gates and then quickly overran the compound.
However, there are still pockets of resistance in the capital, including the Abu Salim and al-Hadba districts, and near the Hotel Rixos, where many foreign journalists are staying. The BBC's Rana Jawad in Tripoli says there is a real sense that this is the end of Col Gaddafi's rule, but the proper celebrations will not begin until he and his family are found.
October 2011
Libya's Col Muammar Gaddafi killed, says NTC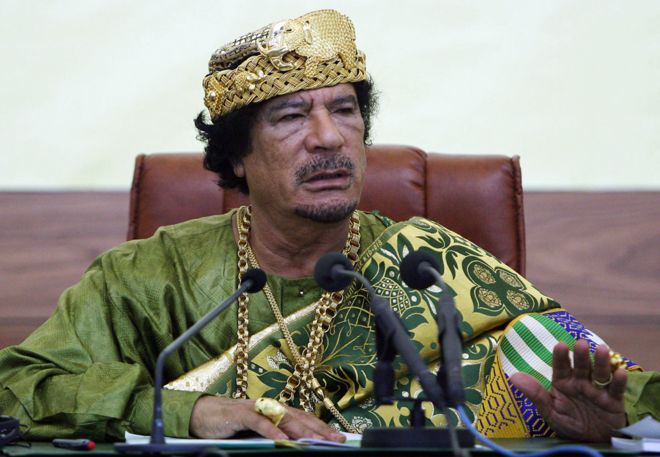 Libya's ex-leader Col Muammar Gaddafi has been killed after an assault on his birthplace of Sirte, officials say. Acting Prime Minister Mahmoud Jibril announced the death, and later said the colonel had been killed in a crossfire between Gaddafi loyalists and fighters from the transitional authorities. He confirmed that Col Gaddafi had been taken alive, but died of bullet wounds minutes before reaching hospital. Video footage suggests he was also dragged through the streets.
He was fighting his last stand in Sirte alongside two of his sons, Mutassim and Saif al-Islam, according to reports. Acting Justice Minister Mohammad al-Alagi told the AP news agency Saif al-Islam had been captured and taken to hospital with a leg wound. A corpse that officials identified as that of Mutassim has been laid out in a house in the city of Misrata, where locals have been queuing to take pictures. The body of Col Gaddafi has also reportedly been taken to Misrata.
One NTC fighter told the BBC that he found Col Gaddafi hiding in a hole, and the former leader had begged him not to shoot. The fighter showed reporters a golden pistol he said he had taken from Col Gaddafi. Arabic TV channels showed images of troops surrounding two large drainage pipes where the reporters said Col Gaddafi was found.
Officials said the NTC intended to announce the "liberation of the country" in the coming days, allowing them to begin pushing through democratic reforms that will lead to elections.
November 2011
Iran protesters storm UK embassy in Tehran
Protesters in the Iranian capital, Tehran, have broken into the UK embassy compound during a demonstration against sanctions imposed by Britain. Militant students are reported to have ransacked offices, burned the British flag and smashed embassy windows. The move comes after Iran resolved to reduce ties following the UK's decision to impose further sanctions on it. Iran expressed "regret" over the attack on the embassy. The Foreign Office has summoned an Iranian diplomat in London.
British Prime Minister David Cameron said: "The attack on the British embassy in Tehran today was outrageous and indefensible." He said those responsible for the attack must be prosecuted. The Foreign Office urged Britons in Iran to "stay indoors, keep a low profile and await further advice".
The Iranian Foreign Ministry expressed "regret for certain unacceptable behaviour by a small number of protesters in spite of efforts by the police". "The relevant authorities have been asked to take the necessary measures and look into this issue immediately," it said.
Last week the US, UK and Canada announced new measures targeting Iran over its controversial nuclear plans. For its part, the UK Treasury imposed sanctions on Iranian banks, accusing them of facilitating the country's nuclear programme That decision followed a report from the International Atomic Energy Agency (IAEA) that suggested Iran was working towards acquiring a nuclear weapon. It said Iran had carried out tests "relevant to the development of a nuclear device". Iran insists its nuclear programme is for peaceful purposes only.
This post was modified 2 years ago 5 times by
Nathan
February 2012
Greece bailout: Eurozone ministers set tough conditions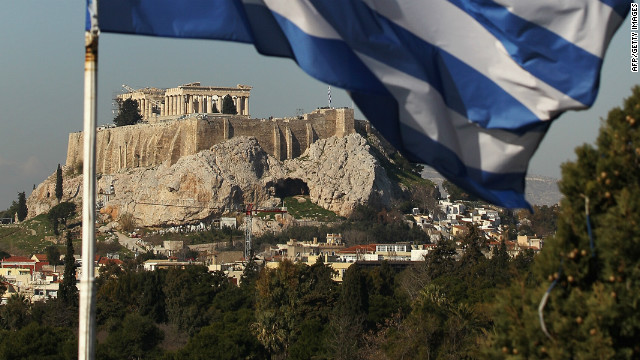 Eurozone finance ministers have made a series of demands for Greece to get a 130bn euro ($170bn; £110bn) bailout. They said the Greek parliament would have to approve the terms of a package of cuts and reforms agreed with the EU and the International Monetary Fund. In addition, Athens must find a further 325m euros in budget cuts by Wednesday, when Eurozone ministers meet again.
Greek unions had already called a 48-hour strike, beginning on Friday, in opposition to the austerity measures. Greece cannot service its huge debt, and there are fears that a default could endanger Europe's financial stability and even lead to a break-up of the Eurozone. On Thursday Greece's finance minister and his 16 Eurozone counterparts met in Brussels to consider EU plans for another 130bn euros in bailout funds.
The BBC's Chris Morris in Brussels says that given Greece's worsening economy, there is concern among European ministers that the overall plan - involving the new bailout as well as an agreement for private banks to write off a substantial chunk of Greek debt - still doesn't do enough to put the country on a sustainable path. It is the second such bailout and the mood among Eurozone countries appears to be toughening on Greece, our correspondent adds.
While the official view is still that Greece must be saved, he says there is more and more talk on the margins that a Greek default would not be a disaster.
Greece is already feeling the effects of an earlier round of austerity, put in place as part of a deal to release funds from a previous bailout. Those cuts triggered widespread unrest and violent protests. Greece is deep in recession with unemployment rising above 20%.
November 2012
President Barack Obama defeats Romney to win re-election
President Barack Obama has been re-elected to a second term, defeating Republican challenger Mitt Romney. America's first black president secured more than the 270 votes in the electoral college needed to win. In his victory speech before supporters in Chicago, Mr Obama said he would talk to Mr Romney about "where we can work together to move this country forward". Mr Obama prevailed despite lingering dissatisfaction with the economy and a hard-fought challenge by Mr Romney. His Democrats also retained their majority in the Senate, which they have held since 2007.
The Republicans kept control of the House of Representatives, which analysts say will likely result in more of the gridlock that characterised Mr Obama's first term, with the House and the president at loggerheads on most legislation. In his address, the president challenged his opponents, asking them to work with him. With only Florida's 29 electoral votes still undecided, Mr Obama won 303 electoral votes to Mr Romney's 206.
Mr Romney won North Carolina and Indiana, both of which Mr Obama won in 2008, as well as the solid Republican states. But he was unable to win in Ohio or other states needed to breach the 270 threshold. Also on Tuesday's ballot were 11 state governorships, a third of the seats in the 100-member US Senate and all 435 seats in the House of Representatives. Mr Obama's victory came despite lingering high unemployment - 7.9% on election day - and tepid economic growth. But voters gave him credit for his 2009 rescue of the US car industry among other policy accomplishments, and rewarded him for ordering the commando mission that killed Osama Bin Laden in Pakistan last year.
February 2013
North Korea carries out biggest nuclear test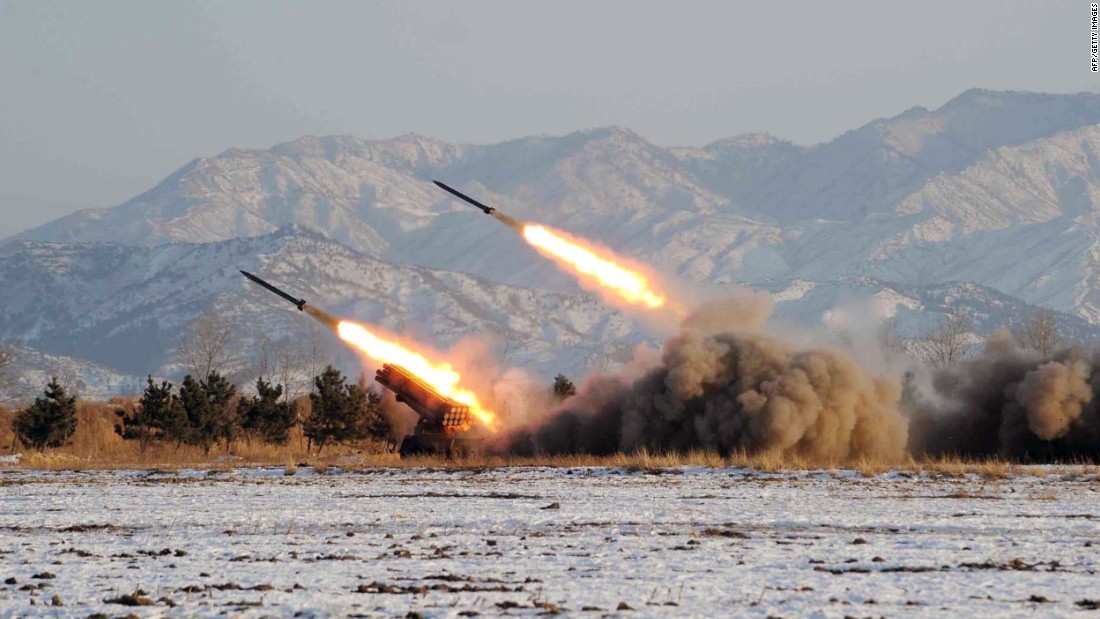 North Korea has carried out its third, most powerful nuclear test despite UN warnings, and said "even stronger" action might follow. It described the test as a "self-defensive measure" necessitated by the "continued hostility" of the US. Its main ally, China, criticised the test, which was condemned worldwide. Nuclear test monitors in Vienna say the underground explosion had double the force of the 2009 test, despite reportedly involving a smaller device. If, as North Korea reports, a smaller device was tested successfully, analysts say this could take Pyongyang closer to building a warhead small enough to arm a missile. The UN Security Council will meet at 14:00 GMT to discuss the test and its ramifications, diplomats say.
Activity had been observed at the Punggye-ri nuclear test site for several months. Seismic activity was then detected by monitoring agencies from several nations at 11:57 (02:57 GMT) on Tuesday. A shallow earthquake with a magnitude of 4.9 was recorded, the US Geological Survey said. Confirmation of the test came three hours later in a statement from the state-run KCNA news agency.
UN Secretary General Ban Ki-moon condemned the test as a "clear and grave violation" of UN resolutions and a "deeply destabilising" provocation. Mr Obama said the test was a "highly provocative act", and called for "swift" and "credible" international action in response. China expressed "firm opposition" to its ally's test, urging the North to honour its commitment to denuclearisation and "not take any actions which might worsen the situation".
The BBC's Lucy Williamson, in Seoul, says the trouble, as ever, is what the international community can do in response without triggering an even bigger crisis - North Korea is already tied up in layers of sanctions which do not seem to have had any impact. She adds that some in Washington have talked of maybe targeting North Korean financial interests, but the only real pressure is seen to lie with China. By defying the UN and launching its nuclear test now, our correspondent says, Pyongyang is giving the new leadership in Beijing a very public test of its own.
June 2013
Pro-austerity New Democracy triumph in Greece
World leaders have welcomed the narrow election victory of Greece's broadly pro-bailout New Democracy party and urged Athens to form a cabinet quickly. The eurozone group said reforms were Greece's "best guarantee" to overcome tough economic and social challenges.
With 99.9% of ballots counted, interior ministry results put New Democracy on 29.7% of the vote (129 seats), Syriza on 26.9% (71) and the socialist Pasok on 12.3% (33). There are 300 seats in parliament and Greece has a rule that gives the leading party 50 extra seats.

Greek voters had gone to the polls on Sunday following inconclusive elections in May. New Democracy leader Antonis Samaras said Greeks had chosen to stay in the euro and called for a "national salvation government".
Syriza's leader Alexis Tsipras said his party would not take part in the government, and would instead become a powerful anti-austerity voice in the opposition.
June 2013
Edward Snowden was NSA Prism leak source - Guardian
A former CIA technical worker has been identified by the UK's Guardian newspaper as the source of leaks about US surveillance programmes. Edward Snowden, 29, is described by the paper as an ex-CIA technical assistant, currently employed by defence contractor Booz Allen Hamilton. The Guardian said his identity was being revealed at his own request. The recent revelations are that US agencies gathered millions of phone records and monitored internet data.
In a statement, Booz Allen Hamilton confirmed Mr Snowden had been an employee for less than three months. "If accurate, this action represents a grave violation of the code of conduct and core values of our firm," the statement said. The first of the leaks came out on Wednesday night, when the Guardian reported a US secret court had ordered phone company Verizon to hand over to the National Security Agency (NSA) millions of records on telephone call "metadata". The metadata include the numbers of both phones on a call, its duration, time, date and location (for mobiles, determined by which mobile signal towers relayed the call or text). That report was followed by revelations in both the Washington Post and Guardian that the NSA tapped directly into the servers of nine internet firms including Facebook, Google, Microsoft and Yahoo to track online communication in a programme known as Prism.
On Saturday, US director of national intelligence James Clapper called the leaks "literally gut-wrenching". "I hope we're able to track down whoever's doing this, because it is extremely damaging to, and it affects the safety and security of this country," he told NBC News on Saturday.
This post was modified 2 years ago 2 times by
Nathan