BBC World News (November 2013-)
Five Israelis killed in deadly attack on Jerusalem Synagogue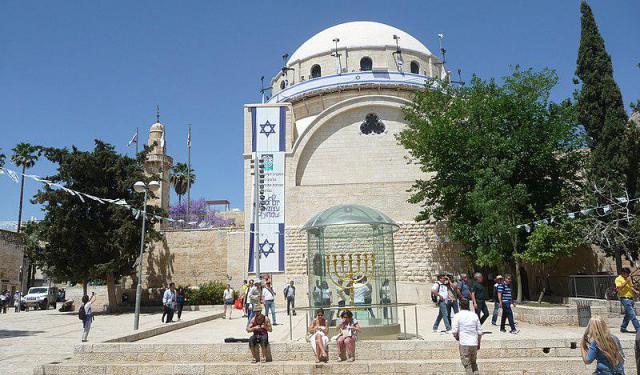 Five Israelis were killed and eight more wounded in a frenzied assault by two Palestinian men on Jewish worshippers praying at a Jerusalem synagogue in the most lethal incident in the city in years.
The two assailants who launched their attack with meat cleavers and a gun during early morning prayers were then killed by police officers in the ensuing gun battle at the scene of the attack.
The deaths occurred as the two men burst into the Bnei Torah synagogue in Har Nof, an ultra-Orthodox Jewish neighbourhood of West Jerusalem.
Three of the victims held dual US-Israeli citizenship.
Witnesses including worshippers, residents and a first-aider who entered the synagogue while the attack was continuing, described a chaotic and bloody scene as police and the attackers engaged in a shootout at the building's entrance.
The attack is bound to ratchet up fears of sustained violence in the city, already on edge amid soaring tensions over a contested holy site.
The Popular Front for the Liberation of Palestine, a militant group, released a statement. The statement did not specify whether the group instructed the two assailants to carry out the attack. Hamas, the militant Palestinian group that runs the Gaza Strip, also praised the attack.
Israel's prime minister, Binyamin Netanyahu, vowed that Israel would "respond harshly" to the attack, describing it as a "cruel murder of Jews who came to pray and were killed by despicable murderers".
The US secretary of state, John Kerry, said he spoke to Netanyahu after the assault and denounced it as an "act of pure terror and senseless brutality and violence".
"Innocent people who had come to worship died in the sanctuary of a synagogue," Kerry said, his voice quavering.
"They were hatcheted, hacked and murdered in that holy place in an act of pure terror and senseless brutality and murder. I call on Palestinians at every single level of leadership to condemn this in the most powerful terms. This violence has no place anywhere, particularly after the discussion that we just had the other day in Amman."
The Palestinian president, Mahmoud Abbas, condemned the attack, the first time he has done so since a recent spike in deadly violence against Israelis began. He also called for an end to Israeli "provocations" surrounding the sacred site.