Will Croft elected Leader of the Conservative party
South Pacific nations agree new alliance to counter China
Budget 2016: Chancellor faces global slowdown
Ministers embarrassed by 'Legion' leak
{"effect":"fade","fontstyle":"normal","autoplay":"true","timer":4000}
The Financial Times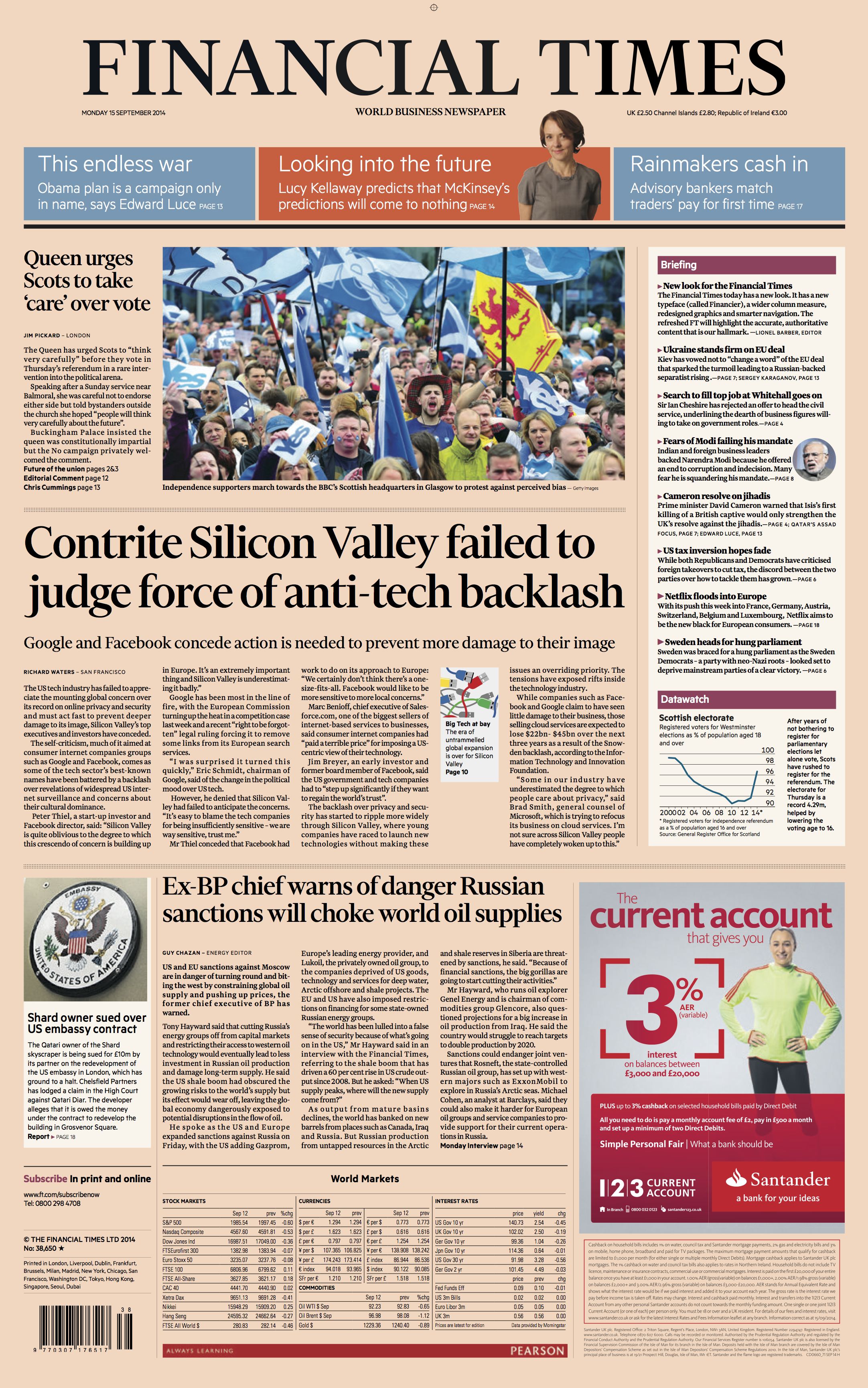 An international daily newspaper, known for its emphasis on business and economics related news. 
2010 General Election Endorsement: Conservative. 
2014 General Election Endorsement: Conservative-Liberal Democrat coalition.
This topic was modified 1 year ago by
Nathan
Little hope of Firefighter strike breakthrough
Yesterday the nearly 40,000 firefighters in England and Wales went on strike for the second time this year, with more industrial action to come. It is the first national firefighters' strike in a decade, and there has so far been little chance of breakthrough.
The cause of the strike are government plans to increase the normal pension age for firefighters to 60, from 55; as well as increasing their pension contributions and moving to a career average system rather than final salary scheme. That would mean that they would be unable to claim their full pension until the age of 60; any earlier and they would be subject to a penalty to reflect that they are claiming the pension for longer.
The government has conceded considerable transitional protections - nearly two thirds will be fully or partially protected from the changes - and says that the changes are necessary in order to make public sector pensions fairer and more sustainable in the long term. Even with the changes, firefighters, like other public sector workers, will have access to a level of generosity and certainty unavailable to the majority of private sector workers.
The Fire Brigades Union - the FBU - opposes the increase to 60 but has been reluctant to take strike action. The proposed 'final settlement' was published nearly a year ago, and the planned first set of strike action in July this year was called off after a last minute offer from the government. But three issues have undermined chances of a settlement.
First and foremost is the issue of fitness to work. The FBU has claimed that the increase in the pension age could lead to firefighters losing their jobs between 55 and 60 and being forced to claim their pension early - with a penalty - because they do not meet the basic fitness standards. They argue that around 2/3 of firefighters will end up not meeting those standards and being at risk - a claim disputed by the government who argue that the majority of firefighters can maintain those standards with 'recommended physical activity'. 
Second and related are the penalties applied to a pension to early retirement to reflect the fact that someone will be claiming their pensions for longer. The FBU claims that they are unduly harsh - with a retiree at 55 earning a pension worth just 79% of what it would have been at age 60. 
Finally is the issue of contribution rates, which have increased for all public sector workers. The FBU has argued that it is unfair to implement such as significant change at the same time as significant increases in the contribution rate.
So far the government has held firm on the first and the third of these issues. It made an offer on the second, offering a much more generous early retirement scheme; but it has since withdrawn that offer after strike action took place. Underlying that is a concern about cost: it is unclear how many firefighters may not meet fitness requirements between 55 and 60 and therefore how much protection would end up costing. One recent report said that in the worst case up to 93% of firefighters could miss standards by age 60; but that in the best case it would be as low as 23%. 
For now, the prospect of a deal seems distant. And yet the keen eyed will have noticed that it is only English and Welsh firefighters on strike. The Scottish firefighters union has not called strike action at all - instead having reached a negotiated settlement on two of the three issues above. A deal was and therefore is possible, but we will not know for years how much it will end up costing the Scottish government.
This post was modified 1 year ago by
Steve
Give the Tories another term but not a majority
Five years ago people predicted that a hung parliament and a coalition would mean gridlock and instability. Those dire predictions have, despite a difficult final few months for the coalition, proven false. Traditional Westminster scandal was the death of the government, not a hung parliament.
Unfortunately, both coalition parties seem ashamed of their record. The Tories have campaigned on fear; the Lib Dems have disowned many of the policies they voted for. That might be good electoral politics, but it is a shame. The coalition has many successes to its name.
We have no fixed political allegiance. But it is clear that the priorities of the incoming government must go beyond cutting public spending - Britain needs a strong pro business government, one that will reset the constitutional settlement between the regions and nations of this country, and one that will engage constructively with the EU.
The Conservatives offer a good vision on the first two. But the last gives us pause.
Should the Conservatives win an outright majority, Dylan Macmillan has pledged to re-negotiate the terms of UK membership and hold an in-out referendum. That will consume the first two years of a Conservative government and could ultimately push Britain out of a close relationship with its closest partners. It could also destroy the Tory Party, already divided by Macmillan and the more extreme "GBC". This preoccupation is rooted in Britain's falling standing in the world - expedited by defence cuts and costly wars in Afghanistan and Iraq.
We cannot in good conscience recommend a Conservative majority that would lead to such uncertainty. But Labour is clearly no suited for government yet - committed to returning to the economics and tax rates of the 70s and 80s. Labour fails on all three of our tests. 
Therefore in our view the best option is continuity. The Conservatives deserve to win the election, but they do not deserve a majority, and denying them one would almost certainly prevent the objectionable policies in their manifesto. The ideal outcome would be for the coalition to continue, but a minority Conservative government supported in confidence situations would also be acceptable. In Britain's broken electoral system, we therefore recommend our readers vote Conservative where necessary, and Liberal Democrat where possible.
All errors fixed – apart from the big one
To say that the coalition's first Budget has backfired would be an understatement. So riddled with errors was the first attempt (whether political or clerical) that the Government hastily withdrew it, fired its Chancellor, and presented a new one.
The new Budget fixes most of those errors. But it has one glaring one, which is that it has no clear plan on how to deal with Britain's growing mountain of public debt.
The government says – and they are not wrong – that the boost to spending on capital investment is modest when you compare it to the amount of debt that already exists. Indeed, debt rose by £350 billion under the last government, so what does it matter if we borrow an extra ten billion or so this year?
But it is precisely because debt is so high that we need a real plan to deal with it, counting every pound that we can get down. High debt has a number of consequences, but aside from any impact it can have on the health of an economy, there is a fundamentally moral argument. Borrowing is not free money. It comes with a cost, and it has to be paid back in interest or in whole. And if we aren't the ones to pay it off or to stop borrowing it in the first place, we're just placing a burden on the next generation, while at the same time expecting them to pay for our pensions, our social care, and to manage the effects of the climate change we created. Failing to deal with our debt problem would be a moral failing.
The counterargument is that interest rates are so low that borrowing nearly is free, and will mean a better economy for our children in the future if we invest now. Interest rates may be low, but they are not zero, and the budget saw them rise slightly. Every £1 billion borrowed still costs £25 million a year in interest payments. And more to the point, just because people are willing to lend us money doesn't mean that it is a good idea to take them up on it. An addict has no shortage of people willing to give him his next hit.
It is true that a substantial boost in capital investment to support the economy, as well as fix Britain's housing crisis, is a good thing. We are fully behind the coalition's intentions. But doing so should have been in the context of a clear plan to get debt falling. And that should have included continuing to bear down on other spending to pay for it. The fact is that we are not borrowing more because we had to to invest. We are borrowing more because we have lost our nerve. We should rediscover it before it is too late.
Offshore funds launch legal action against "Soviet-worthy" tax grab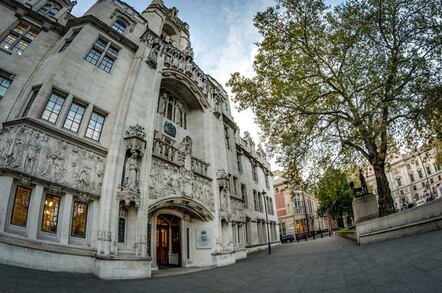 Offshore fund holders have launched a number of legal bids after a little-reported Budget measure looks to cause "unprecedented" harm to them and to the UK's reputation as a good place to do business, according to the group's legal team.
The measure was announced by the Chancellor in the Budget and is expected to raise many billions of pounds a year. It received little attention at the time, but since scrutinising the detail of the extra tax they will need to pay by the end of the year a number of organisations have banded together to take action.
The measure would make commercial property owned by non-residents liable to capital gains tax, meaning – like UK taxpayers – they would need to pay 32% of any gains made on the property when they sell it to the Treasury. Previously, non-residents who owned UK property did not have to pay, which encouraged them to own commercial property – including pension funds.
The change means that all gains that investors have already made on the property will be taxed when it is sold. Similar changes in the past have only applied to gains made after the change was announced, but that would have raised substantially less money.
The group appears to be launching two legal battles: first, a judicial review of the policy itself; and second a claim that it is against the European Convention on Human Rights. The latter could end up in the European Court of Human Rights.
Richard Murphy, Director of Tax Justice UK, said that this was "classic shady offshore tax avoiders complaining when they've been caught." However, tax professionals in the UK, such as the ICAEW said that the claimants "legitimately invested in the UK on an expectation that they would  get a certain return, and the UK government has turned around and overnight cut that return by a third… whatever we think of the practice itself, and even though these people are not UK residents, it won't only be the caricature of wealthy offshore tax avoiders who will be losing out if pension fund returns reduce substantially or even go bankrupt."