The Telegraph
Topic starter
12/02/2019 4:21 pm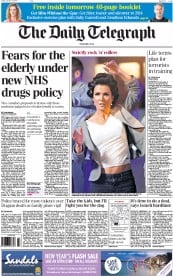 Britain's second biggest selling broadsheet. The Telegraph, like The Times, is a respected newspaper and is notoriously loyal to the Conservative Party.
2010 General Election Endorsement: Conservative.
2014 General Election Endorsement: Conservative.
This topic was modified 2 years ago 2 times by
Nathan
Conservative Leadership Campaign Offers Hope For The Party
It's not often that someone can witness such a sudden downfall as that suffered by David Cameron and look at the leaderless party they've left behind and feel an odd sense of hope. That sense of hope comes from the more than capable performance that each of the candidates have put in. No candidate has given a definitive reason for them to be dismissed out of hand just yet, though they will each encounter difficulties with an electorate that is already looking towards the Labour Party more than anyone should be comfortable with.
Most surprising has been the rise of Barclay Calhoun, who in all likelihood did not expect to find himself suddenly propelled into a position where if he went to the membership he would have a legitimate chance of winning. Not only this, the public has warmed significantly to him after his robust performance in an interview on the BBC. He surprised many with his pragmatic decision to sideline an in-out referendum on the EU until after the next election, but Eurosceptics will be soothed by his historic position on the EU and will be inclined to trust him. Of course there is the question of whether if he were to become Prime Minister whether he could realistically forge a working relationship with whoever the new Liberal Democrat leader will be. It isn't lost on anyone how much David Cameron and Nick Clegg enjoyed working together, whether he could build such a rapport is certainly an interesting question.
Less surprising has been the performance of Deborah Carpenter, one of the early favourites in the contest. She made it very clear that she supported the just intervention into Syria that had torpedoed Mr Cameron's ability to effectively govern, but wouldn't reopen that wound so soon. The performance in her interview was calm and collected, something that certainly bodes well should she manage to make it to the membership. She has also managed to make a good impression on the public, which may give the party momentum in the polls, especially with Labour's seemingly lacklustre field. Provided she can rally the party behind her and avoid the trap of a prolonged renegotiation with the Liberal Democrats it may not be terribly long before the Conservatives fortunes look better.
Sir Jonathon Horncastle came in with an interesting pitch to MPs, the substance of what he wants to do is certainly an interesting direction for the Conservatives. His performance was rather overshadowed by Ms Carpenter and Mr Calhoun, but he put in an encouraging performance that bodes well should he get to become the next Prime Minister. He came into the contest as one of the more solid options among party members and still finds himself with a healthy position among them. The public are distinctly less warm towards him, but there will be time for him to turn that around at the tail end of the campaign and if he should become Prime Minister, he can tout the record of the government to bolster himself.
Much of what was said for Sir Jonathon, is correct for Mary Cambel. She did not have an easy time on the BBC (neither to be fair did Sir Jonathon). Her attempts to provide a unifying position for Tories to continue in coalition with is admirable and shows the character that the party should look for in its next leader. Her standing among the general public is less than ideal following her difficulties, but crucially they are still superior to David Cameron's and people love a winner. So if she should find herself with the keys to Number 10 a lot could change for her. Crucially she can demonstrate the difficulties she suffered in the interview were just an aberration with a strong campaign.
The fact that I am able to be so positive about all of the candidates indicates that the Conservatives have been blessed (more so than Labour) with many capable people who will conduct themselves well in the office of Prime Minister. While none of them are perfect and some of them have encountered difficulty regardless of who wins, the Conservatives have a nucleus of talented people who can advance the cause of the party and the country effectively no matter what role they occupy. There is no wrong choice amongst these candidates, I'm confident that all 4 have the ability to lead the party to an even better result come the next general election.
"Stalin: Stop sending people to kill me! We've already captured five of them, one with a bomb and another with a rifle… If you don't stop sending killers, I'll send one to Moscow, and I won't have to send another" - Tito
Carpenter: the leader we need
The Conservative leadership campaign has certainly been a smoke and mirrors affair, and we're not talking about a mysterious trail of leaks and dropouts. But once again we've had the Conservative Party bickering over what is, in the mind of all too many voters, a non-issue: Europe.
That's not to say that the EU is perfect, or that any Conservative candidate should neglect it, but leadership candidates - even the more moderate ones - should keep it in mind more than what we need to consider is a leader that can effectively maintain our current coalition and keep the Conservatives the governing force they're respected for while being able to - when the time is right and the next election comes in 2015 - present a unifying vision for the country which can win a General Election. We will endorse the candidate that we feel can most effectively keep Labour, embroiled between out-of-touch Blairism and disaster socialism.
It's forgotten that most voters - indeed even a majority of Conservative members - don't care, either way, about Europe half as much as Tory MPs do. They just want to see the Conservative government clean up Labour's debt, keep their wallets secure with low inflation, low tax and higher wages and make sure their public services are kept secure through that process so they have a strong NHS and a good school to send their kids to. All of the candidates have forgotten that.
The polling makes it clear: they trust Deborah Carpenter, who will continue the legacy of the first Conservative leader to put the Tories into government in thirteen years, to continue that legacy. With the economy still shaky they do want change, but they want a safe pair of hands to deliver them. Deborah Carpenter is overwhelmingly their candidate of choice as Mary Cambel reels from disaster to disaster and Horncastle and Calhourn (before he dropped out) offer polarisation and division.
The choice is simple: do you want a Conservative Party that can govern efficiently and beat Labour in 2015? If you care about that, as we in The Telegraph do, your vote indisputably goes to Deborah Carpenter. If a rehash of the 90's and early 2000's is what you're looking for, you're spoilt for choice otherwise.
Almost) Dr. Marty | A-team
Resident Dutchie
Britain's New Prime Minister: How Did She Do It?
The Conservative Party has elected its second female leader and Prime Minister, alongside the Liberal Democrats and Labour who still find themselves one behind on that particular scoreboard. Many will wonder quite how a campaign that has courted controversy at almost every stage of the contest has managed to propel their chosen person to Number 10.
Firstly the field Ms Cambel faced was a relatively strong one, especially compared to the Labour field who had a rather weaker field. Though it is worth noting that this field may have been much stronger had some of the heavy weights such as now former Chancellor George Osborne decided now was his time. Fortunately for Ms Cambel her two strongest obstacles in the contest to her withdrew and were prevented from reaching the run off by MPs respectively. This is despite the fact that all available data seemed to indicate that Deborah Carpenter, who came last among MPs was significantly favoured by both the public and the party faithful.
This leads to the question of why MPs decided to push two seemingly weaker candidates to the run-off? Especially one who has only been an MP for 3 years and another who had a difficult time really gaining significant traction among members. One aspect of it was almost certainly the withdrawal of Barclay Calhoun and his endorsement of Ms Cambel. Mr Calhoun had introduced himself to the public in his interview on the BBC and it went down a storm. Despite predictions of being an also-ran he appeared to have momentum on his side. His sudden withdrawal having apparently made his point was a boon to Ms Cambel who almost certainly would have had to face him in a run off or face the possibility that she would be eliminated after the first or second round.
That's not to say that Ms Cambel didn't have an effective parliamentary campaign, she drew upon talents from across the party and attempted to produce a unifying platform for all of the party to get behind. This was largely successful though a cloud does hang over her head as to whether the allegations of job trading have any merit to them. Then there was the comparatively weak parliamentary campaigns of her two opponents reflected in Ms Cambel winning an absolute majority of all MPs who cast their ballot. That sense of momentum probably contributed to her storming victory among the membership.
Once she was out of the parliamentary party and perhaps crucially out of the spotlight of an interview, a much more composed and detailed character emerged. The memories of her difficult time on the BBC had decisively faded as she proved every bit the equal of Ms Carpenter on the campaign trail. Sir Jonathon struggled as he spoke to the party faithful, nothing he said could be construed as bad, or indeed divisive, but it lacked the depth that had been provided by his two competitors and had the feel of a nostalgic look at an event that only took place last year (magnificent though that event may have been).
It would be impossible to tell the story of Ms Cambel without addressing the devastating and allegedly forged policies that got leaked to the BBC. The BBC's irresponsible journalism by publishing it without so much as requesting a comment from her campaign before publication probably contributed to a sympathy vote both in parliament and among members. It has also finally shed a light on the institutional issues within the BBC, who really ought to hang their heads in shame for lending validity to the leak. Still despite this she has managed to connect with the Tory faithful more than her run-off opponent.
While she still has a long way to go with the public, so does her opposite number in Labour, both are eclipsed by "Don't Know" for Prime Minister. But if she is able to continue to grow into the role as she grew into the campaign she may have a bright future indeed. Though there are still many challenges ahead for Ms Cambel, such as how she will circle the square of tax cuts combined with spending increases especially with a Labour party who will take a harder stance against austerity. So long as she does this credibly and without endangering the recovery, she may yet turn the fortunes of the party around and return to Number 10.
"Stalin: Stop sending people to kill me! We've already captured five of them, one with a bomb and another with a rifle… If you don't stop sending killers, I'll send one to Moscow, and I won't have to send another" - Tito
It's all about the choices from here on in.
A month is a long time in politics, especially in the cut and thrust in the House of Commons. Just last month the country was being led admirably by David Cameron, our polls were trending upwards, and Labour were still committed to some semblance of sane economics. Today we stand on the precipice of a new era. For the first time in history all three main party leaders will be women, the importance of this milestone cannot be overstated. The Conservative Party have a long and storied history of women leading from the front, the first female MP to take her seat in the Commons was Nancy Astor (Conservative), the first female main party leader was the late great Mrs Thatcher (Conservative) and now the first two female Prime Ministers have been Conservative to boot. It is inspiring to be able to sit within a party so committed to real gender equity, where the best women have been able to rise to the top not because they were fast tracked as part of a PR stunt but because they deserve to be there. I may not have voted for Mary Cambel, but she earned her spot at the top through hard work and making her case to the party members well.
These leadership elections have thrown the political deck of cards so high into the air that it is impossible to know which way round we'll be facing when they come back to Earth. The Labour Party had a choice of three women and chose the one whom I passionately believe is merely the second least bad rather than the second best. Ms Suchett has proved herself in her live and campaign appearances to be the sort of danger to this country that we would expect to find more in the Labour Party of Michael Foot than the party of Tony Blair. Her platform contains many explicit promises to increase taxes and many tired old ideas to increase our national debt and our deficit. She wants to nationalise our utilities in a move that would see us return to the era of complacency and inefficiency where there should instead be the very real benefits that are brought to us by competition, benefits that in true markets see prices fall and standards rise. Ms Suchett has rejected the positive aspects of Labour's legacy in Government, their commitment to the free market being the greatest, and has instead pivoted to the very worst in left wing excess, tax and spend to a degree not seen on these shores in many many decades. It is clear coming out of these leadership elections that the Labour Party has not learned the lessons of their economic crisis, a crisis that catapulted the Coalition into Government and saw Labour lose hundreds of elected officials at every level of government, they cannot be allowed to enter Number 10 in any way shape or form which means that the duty of protecting the nation falls on Ms Cambel.
As I mentioned earlier I did not vote for Mary in the leadership election at either level, I saw her platform (the actual one, not the leaked one) and saw a set of policy proposals that I would really rather prefer that the party did not pursue. Her commitment to a period of renegotiation with the European Union, followed by an in/out referendum is in my opinion short-sighted and potentially damaging to the social cohesion of our nation. But like it or not she is my party's leader and she is my country's Prime Minister and so I shall support her in the country, in parliament, and in the party for as long as she retains my confidence. However as I sit here writing this piece I find myself wishing to make a few casual observations and well-meaning suggestions to my new boss so that she does not make the same mistakes as my former ones. I have had the pleasure, if one may call it that at times, of serving the party under 5 different leaders if Mary is included and throughout this time I have seen a Conservative Party desperately searching for a purpose. In 1997 the Labour Party very unfortunately stole our position as the party of economic management and it took a full decade for them to lose that moniker thanks to the recession that their reckless spending plans had deepened. It took Labour a decade to lose their economic crown but it will take us far less time to do so if we abandon the austerity project now after we have come so far. The deficit has fallen by a third under the stewardship of Cameron and Osborne, we must ensure that it continues to do so every single year until we have fulfilled our 2010 manifesto commitment to see it through. It's all very well talking about bread today but if the bakery is on fire then nobody will have much bread at all tomorrow, in the same way if we buckle to what I imagine will be quite stringent Liberal Democrat attempts to restore any kind of hope to be a centre-left party the national finances will more closely resemble the economies of Greece, Portugal, and Ireland leaving us back where we were under Labour in the 1970s – requiring an international bailout.
The next eighteen months will be all about the choices we make and the decisions we do not, under David Cameron we passed a great many social reforms but the heart and soul of his message was fiscal responsibility; that is the hill upon which the Conservative Party will live or die in 2015. We have a tremendous record of lifting the poorest in our community out of taxation by raising the income tax threshold for low earners, if there are to be tax cuts it is here and in National Insurance we must focus our efforts. We must protect Education, Health, and Defence from budget cuts but we must be unflinching in our determination to see the deficit fall for the good of the nation. As any household in our nation will tell you we must pay our way or we will fall into a vicious cycle of debt, we must choose restraint over the populism of the left. The choice facing our nation is a simple one, we can either stick to our guns and rebuild the economy in a sustainable way thanks to the long term economic plan or we can lurch to the left under Suchett and her Labour Party. The Conservative Party must stand for sound economics in the neo-classical tradition or we will find ourselves back in the wilderness and having sat there for thirteen long years I can say with absolute certainty that that is not where the country needs the Conservative Party. We need to be leaders charging from the front to tackle the economic malaise left to us by the Labour Party, not simply the hostages of populism that Suchett and co would be in their socialist delirium.
Conservative MP for North East Bedfordshire
Leader of the Opposition (2014-16)
Prime Minister (2014)
Parliamentary Experience: Novice (25)
Media Experience: Experienced (62)
Policy Experience: Novice (29)
A Liberal Plot
Sir Harold Saxon tells all about the coalition collapse

I think it's best to talk about the elephant in the room.
I'm not proud of the last 48 hours. I was saddened to see the coalition fall. I felt betrayed to see former cabinet colleagues stick the knife in, and twist it against Mary Cambel.  I was sad to see the Prime Minister resign as a result  Don't get me wrong, the actions of the Conservative Leadership have not been perfect. As much as I respect Mary Cambel, she got it wrong and made an fatal error in judgement which ultimately led to her resignation and once we had hit that point, there was no going back. Some have asked could the last 48 hours have been avoided, the answer – probably,  but to be honest, breakup was going to happen anyway – there was no stopping that and I will explain why shortly.
But first, when we discuss the days that have just passed, note that I have described the coalition between the Conservatives and the Liberal Democrats as a relationship. Like personal relationships, you cohabit, there is marriage, and sometimes there is divorce. We've gone through those three stages together, and have had ups and downs. But when it comes to a divorce, things are messy. Neither side can be absolved on innocence.
From the very first meeting it was clear that the Liberal Democrats had absolutely no intention of working with our party. Whilst we scurried back and forth to try and sort out whatever falsified overreactions they'd cooked up that morning, from refusing to work with a leadership candidate because they disagreed with his stance on the EU to the colour of the sky, they increasingly used their position to, in the words of Meredith Hansen Charles herself,  "leverage" the government for whatever they could lay their hands on. They walked into that first meeting intending to rip up everything that had been put into place by Cameron and Clegg. Demands for a Liberal Democrat in the Home Office were drawn up, presented, and quickly dropped when it became clear to them that it would not be acceptable grounds in the eyes of the public to pull out. Charles' "leverage" was ultimately little more than a thinly veiled election strategy - an attempt to present herself as something different from Nick Clegg, and from the coalition itself.  The truth is that the Liberal Democrats are complicit in every coalition policy that has ever been enacted - it is on their very own votes that the cuts they now claim to rally against have been delivered. In the talks, they were interested only in the future of the Liberal Democrats, not the country and not the coalition, and ultimately in the idealistic ego of Meredith herself, not with the long term plan that they claim we have broken.
I have never seen such contempt for the way things work in government, and I will not shed a tear to see them cast into opposition permanently. I will not be silent about what has happened - I believe the British public deserve to know what really took place.. Not the fantasy, not the spin about a breakdown because of policy - this was a Lib Dem orchestration to get their polling back on track. They have put jobs, the economy and frankly decent governance all at risk, simply because it was politically convenient for them to do so.There is nothing more grubby than that.
Meredith Hansen Charles had no interest in seeing the coalition last until 2015, that was obvious from her language during her leadership contest, and from our discussions with her in negotiations. She was only interested in getting Liberal Democrat policy implemented, until they began polling well enough to go to the country. The Liberal Democrats walked yesterday not because of the Conservatives "breaking" the coalition agreement, but because she knew she could exploit the situation for the Liberal Democrats own benefit, and that now would be the time to go to the country. I have no doubt that they will back the no confidence vote in the house.
A lot of the blame was put at the Prime Minister and my door. I accept that mistakes were made, both on Mary's part and on my part, and for that I apologise. But it doesn't give the Liberal Democrats the right to walk away scot free without taking any of the blame whatsoever. Let's be clear here: the Liberal Democrats are not perfect either. What the Liberal Democrats failed to mention yesterday was a direct quote from Meredith Hansen Charles, that she had a transcript of an MP encouraging Conservative members to submit letters to the 1922 committee. I quote: "If you're so concerned about MPs speaking to other MPs, maybe you should speak to your own members. Because I have a transcript from Macmillan saying he is encouraging Tories to submit letters to the 1922 committee."
What she also doesn't say is that the Liberal Democrats were actively interfering in other government departments, where the Liberal Democrats had no responsibilities. On at least two separate occasions she asked members of the Civil Service in the Foreign Office and the Ministry of Defence for information on Ukraine and military matters, trying to put a Lib Dem foot in the door where there had no right to be one. She was also requesting information from ministers inside the treasury and the Department for Culture, Media and Sport.
Meredith Hansen Charles was acting like the Prime Minister. Coalition is about compromise, but at what point do you turn round and say no?
Almost) Dr. Marty | A-team
Resident Dutchie
Get your act together
Whatever your view of the long, sorry saga of Dylan Macmillan, the man is the new leader of the Conservative Party and, likely, our new Prime Minister. He and his opponent, William Croft, made an admirable effort to demonstrate unity by pledging to adopt respective core positions if they won the election.
And yet the first headlines under his leadership were not of this unity, by the formation of a new "research group" by relatively unknown MP James Rackham. Effectively a party within a party, it boasts strong support on the right wing of the party; and particularly those seeking withdrawal from the EU. The group is even opening itself up to membership - quite literally a party within a party, formalising an informal grouping that rumour has it former Chief Whip Harold Saxon had cultivated.
It's as if, to a casual observer, the Conservatives have learned nothing. Their last leadership election was beset by leaks and division. Their last two months of government were beset by division and by heavy handed responses to it. The Conservatives don't need research groups or parties within parties. They need to get behind a leader they elected, however inexplicable that election to many of his hardcore detractors in the parliamentary party.
The fact is that Britain is on the verge of an election; whether it comes in 5 weeks or in 5 months, or somehow, next year. And in that election the Conservatives will face a hard left Labour party committed to tax rates of 60%, legalising drugs, and whatever other crackpot ideas have found purchase in Ari Suchet's socialist party.
Four years of fixing the mess left in 2010 could be thrown away to something much, much worse than Gordon Brown. Whatever the Conservative Party thinks of Dylan Macmillan, they owe the country their united efforts to stop that from happening.
The fall, rise and fall of Dylan Macmillan
To say that the past few months have been a roller-coaster for the Conservative Party would be an understatement and no one has embodied that more than the (likely) outgoing Prime Minister Dylan Macmillan.
From suspended MP to Prime Minister to narrowly losing out to Labour as the fortunes of the party have shifted Mr Macmillan's seemed to go in the opposite direction. For example, as the election went on, the Conservatives closed the gap, but Mr Macmillan became less popular. Part of this is because like all politicians who gain political capital through their perceived honesty, assuming the leadership of a party forces them into compromises that are necessary with parties that are as broad as the Conservatives.
A broadness that has come into focus following the election, the Greater Britain Committee a group of around 70 Conservative MPs, with a membership within the Conservative Party of around 9,000 are trying to change the direction of the party. They have insisted, despite rumours that they don't plan to topple Mr Macmillan and simply want him to move on issues that they think have cost the Conservatives their chance at government. It is worth noting that to a lot of the country the GBC has the appearance of being Mary Cambel's Apparatchiks, their challenge will be to distance themselves from that appearance.
The trouble is that Mr Macmillan has already moved quite a lot from his stated positions in order to maintain a somewhat orderly grip of his party in the wake of Mary Cambel. He managed to shift the party's momentum from total collapse to a respectable finish in the general election, that is no mean feat given the shattering of the two party system that seems to be unfolding.
Mr Macmillan's challenge post election is two-fold, he must work to detoxify his party following the historic scandal that he correctly identified. Part of that will be time, probably spent in opposition which will helpfully draw the media's focus away from him and his party. The second part is he must find an electoral coalition that contains the 2014 Conservative vote and doesn't alienate either wing of his party. The promise on a referendum sends the right notes, but it comes at the risk of annoying his natural allies in the party, if he once again reneges on it, "Dithering Dylan" will have struck again and will likely limp to the next election (if his party allows him) fatally wounded.
Inevitably after losing an election (and make no mistake by every conceivable metric this is a loss) people have turned to the question of who replaces Mr Macmillan. If you're struggling to name someone, you're not alone. The fact is that there is no natural successor who has the appearance of someone who can lead the party to victory. Maybe someone will emerge, maybe Mr Macmillan will recapture the magic that defined his early period as leader and his time suspended from the party. Regardless, he appears to be here to stay and the Conservatives would be wise to allow him the space to oppose what will likely be a coalition that struggles against its own inconsistencies.
"Stalin: Stop sending people to kill me! We've already captured five of them, one with a bomb and another with a rifle… If you don't stop sending killers, I'll send one to Moscow, and I won't have to send another" - Tito
He Must Listen
An Editorial by Founding GBC Member and Conservative MP Sarah Bannantyne.
The election results were a wake-up call for the Conservative Party.
First, let me make it clear that I have the utmost respect for Dylan Macmillan. On a personal level we worked together on the campaign and he's one of the few Conservative MPs to have such drive, ambition and believe he can get the job done and politics aside he is a nice man. On a professional level I congratulated him when he became Conservative leader and the Greater Britain Committee whom i am a member of, or GBC, pledged their full and unequivocal support towards him at the time, as long as he pledged his full and unequivocal support for an EU referendum. Despite how some areas of the media may like to define our group we are not 'back seat drivers' and do not wish for a divided party - one only needs to look at the near liberal democrat manifesto we all stood on despite opposing several measures, this clearly defies Labour's suggestion that we somehow rule the party. However, when Dylan took on the job he knew what he was getting into, he knew that we may end up in the situation we are in now.
When he was elected, Dylan Macmillan was at the height of his popularity. While some in the party did not trust him due to his involvement in the Cambel-Saxon fiasco, a quality he would be redeemed of soon after when investigations found he was actually in the right, he was a needed force for good in the party. His personal popularity was high, and the effect of him becoming leader drove us back up in the polls in a key moment - this polling was a key reason why he became leader in the first place. He was without question more popular than the party. By the time the election was triggered however this was already starting to change. By mid-election Macmillan's personal polling scores were no better than the far left leader he was trying to oppose. Our campaign strategy had become sloppy, disorganised and the feeling among party members was that things could only go downhill. To his credit he did however recover. A strategy was put together, key marginals were successfully targeted and when Labour's campaign took a pause the party's popularity soared - a lucky boost we needed to secure our position. A pause that, had it not happened, would have seen Labour with a majority or significantly more seats. What did not change however was the swing towards UKIP both from Labour and more importantly the Tories.
At results night it was UKIP who essentially won the election, or perhaps came second after MHC's Liberal Democrats. The swing towards them on a national level amounted to 10% - a significant shift and a sign the party had failed to account for it's base in its pursuit for the centre ground. The sheer size of this swing, while of course not all from the Conservatives, may well easily have cost us dozens of seats. Meanwhile the swing away from the Liberal Democrats to the Conservatives amounted in almost no actual gains - in fact only in Taunton did a Conservative defeat an incumbent Lib Dem. This is a massive potential cost for a tiny gain. Yet Macmillan had been warned repeatedly by his party as a whole that if he did not satisfy the base on the party's right we would be in danger. From his initial attempts to abandon an EU referendum altogether to a brief attempt to abandon pledges on immigration he was warned and eventually backed down - but these were only the policies we were truly consulted on bar Lords reform. Policies were repeatedly quietly added without consultation of the full party, and despite the GBC's suggestion of campaigning for Electoral Finance Reform the policy was not considered - a policy that would certainly have won votes in an election where trust in politicians and politics was at an all time low. The manifesto was plastered from day 1 as an overly moderate by the press, almost a liberal democrat manifesto - the pinnacle of Macmillanite policy. In doing this he had made this election a referendum on his popularity - his main and almost sole argument for his election as leader.
Had he listened to the party and had he been honest and straight with voters we may well have done better, and the right wing UKIP who's rapid rise even Conservative moderates note as being a 'significant concern' may have been stumped. The Labour Party under Ari Suchet had problems of their own, people have problems trusting her as we saw with the personal approval polls and the Conservatives could have capitalised on that. Dylan Macmillan could have capitalised on that but it was a missed opportunity. This failed effort only became more telling when he was unable to deliver what the party assumed would be an easy knockout in the election debates - notably the second debate where the party's entire reasoning for wanting a debate lay on forcing a comparison of the two leaders. Instead we saw a rapid and significant decline in trust of Dylan Macmillan, not a spike in support for the party. Our leader's personal support, the main reason for his election, now is actually worse than the far left Labour leader at an average of -9% to Suchet's +4%. 39% of the public see Ari Suchet as best suited to become Prime Minister despite all of her flaws, and only 33% see Macmillan as the best Prime Minister. I dread to think how polls would look if you factored in the Lib Dem's 'MHC'.
When I called for the Prime Minister to consider his position, my wording was chosen for a particular reason. Some say I did it because i'm plotting a leadership bid but I have absolutely no desire in that area, in fact the GBC has little real desire for some kind of bloody coup to seize control of the party. Despite Macmillan's arguably somewhat paranoid backroom claims it is also unlikely we will see a vote of no confidence against the Prime Minister, the GBC has made it absolutely clear and is in full unanimous agreement that a VONC will not be launched at this time against Dylan Macmillan. What is clear though is that the party needs and is owed a discussion on it's future and where we go from here, at party level, not just the frontbench. He has indicated he wishes to continue and we welcome that, however he must recognise that does not have the support of the majority of the parliamentary party, let alone seemingly the country if he continues to pursue the direction he has taken since becoming leader and the direction he insisted the campaign should take during the election.
I wouldn't have said what i did on election night if I knew MPs did not agree with me. A cabinet minister has told the GBC privately that in their own words: "he [Dylan Macmillan] needs to resign, there's no other way" and there are at least 2 other cabinet ministers who are prepared to tell Dylan Macmillan to go should that time come. I have had messages of support from MPs across the party who have said to me that I did the right thing by calling for Dylan Macmillan to consider his options but all this is not about what I want, my only interest is what is best for the Conservative Party and for the country. Dylan Macmillan may retain support from his inner circle, whom he trusts for opinion more than his party colleagues, for now - he does not however carry enough support in the parliamentary party to continue on this path to nowhere that he has set out as Conservative Leader - and this is the main flaw in his leadership. You absolutely cannot rule a party from the top alone as it forces MPs to join groups to protect their own interests - thus explaining why the GBC exists.
Dylan Macmillan now needs to take this opportunity to reflect on recent events and be open to a debate and open to change on the future direction of the Conservative party. There is no need for blood to be spilt and none of us want that. We now however are faced with a hard left - liberal coalition as a country and we need a strong and united Conservative party to oppose that, Macmillan's insistence on pursuing this current direction only pushes us further apart and weakens us against them. Dylan has blamed the GBC for the election defeat despite all evidence to the contrary, but now has to take some of the responsibility for the failure of the election campaign and he needs to be honest with the party rather than discussing the situation in the cabinet. He has to accept that if the party is to return to government, then changes will have to be made. He has to accept that the full parliamentary party has to be involved in policy formulation. He has to accept that the Conservatives need reform in the party so we can see an increase in internal party democracy. He cannot just expect to take all responsibility for the party's recovery throughout the election - he himself said the election recovery was part of a team effort, not a sole sprint to the finish by one man.
This election for our voters became a referendum on him, one only needs to look at the headlines of major newspapers on election day saying "Vote conservative, Dump Dylan" or something to that effect to see where as a party we went wrong, and he needs to recognise that he was at fault in some areas at least. We have a lot to thank Dylan Macmillan for,  He is a good and honest man who stood on the belief that politics should be more open, trustworthy and contentious, it is time he is honest with himself and now the best way he can demonstrate that is to let the party have a frank and open debate about it's future by stepping down and passing on the baton to someone less scarred by old fights and internal bickering. It is his decision over whether to follow through on that, but it is the only clear way forward in my eyes.
We need an open and free debate over the direction of the party and the future. If Mr Macmillan refuses to be open to a debate and he continues to place the blame on his own party members for the election defeat though the GBC will express our dissatisfaction in the strongest terms and he will quickly lose our support. He must know show true leadership by letting the party have a debate about the future and not seek to silence or cast out those who disagree with him. How he does this is up to him of course, but It's the only clear way to unify our party for good.
Topic starter
31/03/2019 1:04 am
Labour has a H-EU-GE mountain to climb.
One Last Heave or a Bolt from the Blue?
The Tories have proven themselves an effective opposition of late. They have taken the government to task neatly on its failings, with the scalping of a Chancellor and the driving out of office of a now clinically deranged Home Secretary to their credit. They boast a strong set of intellectual powerhouses and media performers; William Croft, Anita Redmond and Deborah Carpenter are not to be underestimated by any means.
But the Conservatives seem to be struggling to make progress beyond drawing level with Labour; for all their attack-dog antics, voters still don't see the boys (and girls) in blue as an alternative that they can get behind. The Conservative media strategy has been effective, conclusive and has out-classed the government at every turn. On the disastrous budget and the controversial Reform Bill, the Tories have dominated the public debate and turned opinion around. But their posture seems to be one of the "one last heave" ilk; there is little of anything fresh, new or exciting to be seen.
The Conservative election manifesto spearheaded by Dylan Macmillan was described my many as the "fag-packet plan." It was well-presented, but in their rush to be the first to declare the Tories left their package of proposals devoid of vision or detail. It was, as one Labour staffer working in the then Shadow Home Secretary's office put it, perhaps the shortest suicide note in history. There was no sense of an overriding vision or mission statement, and little sense that the Conservatives had much in the way of a plan for Britain beyond a set of open-ended bullet points and glossy campaign slogans.
And since the election, things have not significantly developed from that position. The Conservatives have been very effective at highlighting the government's weaknesses and have outflanked the once-formidable Labour press machine on the playing fields of public opinion. We know a great deal about what the Tories won't stand for - but we know very little of for what they do stand. Policy pronouncements have been thin on the ground; the ambitious, radical conservative agenda that Britain needs to thrive has been found wanting. The "shadow budget," for all the pomp and ceremony, seemed to abandon the "long-term economic plan" entirely and was more diet-Labour than full-fat Tory.
The Opposition faces more than just this one challenge, of course. Dylan Macmillan, once the golden boy of the unaffectionately-named wets, is now reviled by those who once revered him. The public sees him as slippery, dithering and untrustworthy: an opportunist flip-flopper, beholden to the whims of the Greater Britain Committee which restrains him from being the Cameronite reformer he knows himself to be. In the face of effortlessly competent potential successors of the William Croft ilk, Macmillan's position as leader of his party has never looked less stable: it is a testament to the newfound unity of the Conservatives that nobody has yet sought to throw him under the bus.
Another challenge for the Tories is the stratospheric rise of UKIP, which has been unabated by belated Conservative pledges to hold a new referendum on Europe. The issue threatens to divide the Tory Party down the centre line, pitting eurosceptic moderates against eurohating right-wingers. The government, by contrast, has thrown itself so wholeheartedly into European politics that many on the continent are now deferring to Britain's viewpoint for the first time since the Blair craze of the late 1990s.
Whatever the Tories do, they need to do it soon: and "one last heave" will not cut it any more. The political map is more divided than ever, and to make meaningful headway at the next election the Conservatives will need a solid lead over all other parties. To achieve such a position of dominance, they must set out clearly an ambitious set of new policy proposals fit for the 21st century, sweeping away the last vestiges of the memory of the 1980s and committing themselves to be more than just the party of austerity. In the words of George Osborne, "the age of austerity has been brought to a close by Labour; what age will replace it is a matter for Dylan Macmillan to define."
Rt Hon. Juliet Manning MP, MSc (UCL)
MP for Luton South
Secretary of State for the Home Department
Minister for Defence
Lord High Chancellor
Shadow Chancellor: We'd Cut £18 billion and scrap HS2
The newly appointed Shadow Chancellor of the Exchequer, Douglas Byrne, has announced that the Conservative Party - "if elected to government tomorrow" - would eliminate £18 billion from the deficit in a single year, with £15 billion of savings coming from spending cuts and the remaining £3 billion from tax changes, including the removal of the VAT exemption on gambling and betting, and index-linking rises in the personal allowance to inflation for a fixed period.
"Britain faces a debt crisis," Mr Byrne told this paper, "and Labour are back up to their old tricks. When they came into office in 1997, they inherited a national debt of 43% of GDP. When they left thirteen years later, they had driven that up to 75%."
"For four years, the Conservatives had been putting responsibility back into government finances - getting the deficit down and beginning to resolve our debt burden. But now this new government have thrown open the taps and are spending £42 billion more this year than last year."
"Anyone who knows a thing about running a family home or a business knows that you cannot spend beyond your means forever. At some point, the debt has to be paid; Labour's choice is to pass that burden on to our children. The Conservatives' choice is to deal with the debt now so that we can prosper in the future."
"So, if I stepped into Number 11 tomorrow, I would cut the deficit by £18 billion, bringing it down by 1.3% as a proportion of GDP - a reduction almost fifty times larger than that which the government's inaugural budget achieved."
"We can eliminate the deficit totally within five years and balance the books by 2019, if the government makes the right decisions. Right now, they're making all the wrong decisions and I'm worried that our country's credit rating is about to take a hit as a result of this reckless spending."
The Shadow Chancellor claims that his plans would see Britain reducing the deficit faster than most EU countries - a stark contrast to the 0.03% deficit reduction proposed this year by the government, which is dwarfed by the scale of cuts in France, Germany and most of the 28 EU member states.
Mr Byrne was particularly critical of the government's capital investment package, totalling £38 billion - most of which has not, he claims, been clearly allocated.
"We have £38 billion - that's the equivalent of an average earner's annual salary every year for nearly 1,500 years - that the government has thrown at the wall for capital investment that simply can't be realised on that scale. We have no idea what they're spending it on; but it's there."
"Even the IFS have cast doubt as to the government's ability to actually allocate that money properly."
Part of the Conservative plan to reduce the deficit would include scrapping High Speed 2, the controversial new railway line planned to link London to the north of England.
"HS2 is an enormous, expensive white elephant that people don't actually want, Mr Byrne said, "and I'd much rather spend the money on improving the rail services that we already have."
"For the cost of HS2, we could replace the entire rolling stock on the country's railway network twice over - and have change to spare."
Another component of Conservative plans to cut the deficit would be the institution of a public sector pay settlement indexing awards to inflation, which Mr Byrne says would remain in place "for at least another two years."
"In April 2013 it was estimated that on average the pay of the public sector was up to 3.1% higher that in the private sector after adjusting for the different jobs and personal characteristics of the workers."
"On top of that, many public sector workers have access to defined-benefit pension schemes, which are infinitely more generous than those available to people working in the private sector. We also know that the public sector workforce benefits from enhanced learning and development opportunities, particularly in the civil service."
"It is therefore right that at a time of national stringency, public sector pay awards should be index-linked to inflation. We will never cut pay in real terms, but we will freeze it even as we do more to release the tax burden on low earners and support people in keeping more of their own money."
Asked if he felt the measures he was announcing would be popular, the Shadow Chancellor said: "it isn't my job to be popular."
"I was a businessman for nearly twenty years before I became an MP. I directly or indirectly employed thousands of people around the world. I know how to take a business from the depths of indebtedness and stagnation and pull it out into prosperity. I can do the same for the UK economy, but it will mean making the tough choices today that the government has shied away from that enable us to have the brighter future tomorrow."
The Shadow Chancellor is a member of the Cornerstone Group and a devout Roman Catholic holding a Pontifical knighthood, Byrne represents the traditional right of the Conservative Party.
"But people get the wrong idea about us," he claims. "I'm not an ideological slash-and-burn maniac with an axe. It's just about responsibility and rationalism, two creeds that I live by."
"We're going to cut the deficit 50 times more than Labour as a percentage of GDP, and reduce it in absolute terms where they let it grow. It's a very clear alternative, and the only rational option."
Government's 'quiet massacre' of grammars
The government is facilitating a 'quiet massacre' of grammar schools, according to an Institute of Economic Affairs (IEA) report released today.
The report, which was guest co-authored by Toby Young - the recently appointed head of the New Schools Network - highlights that funding for grammar schools is, on average, significantly lower than funding for other comparable state schools.
The IEA claims that around half of grammar schools in England received less than £4,500 per pupil in 2015/16, whilst other state schools received on average £5,200 per pupil.
The reason for the discrepancy is multi-faceted; schools are allocated a 'basic entitlement' from the Department for Education & Employment, which for grammar schools is on average £200 lower than other state schools. Grammar schools also received considerably less grant funding - for instance gaining about £250 per student less in deprivation funding, reflecting the fact that pupils in grammar schools are from relatively less disadvantaged backgrounds than pupils at other state schools. Other funding sources are also applied to the disadvantage of grammars; no grammar school in the last year has received private finance initiative (PFI) funding, whilst such funding was allocated to over 100 other state schools - worth as much as £2,100 per pupil in one example.
The IEA, which is supporting the Conservative proposal to recreate a selective - or partially-selective -education system, with new grammar schools and technical colleges, calls the funding disparity a 'quiet massacre' which 'all-too often goes unnoticed because it is the squeaky wheel that gets the oil.'
'Disadvantage is a much more visible phenomenon when it manifests as social deprivaton and all the problems that go with it; generations of politicians have sacrificed the comparatively well-off in a kind of social engineering designed to flatten the playing field,' said Mr Young, who is a former journalist for The Spectator.
'It is much easier to take money away from kids who are performing well academically, and who will therefore be more likely to be in grammar schools, than it is to save money in dealing with other schools where we see higher truancy, poorer discipline and the rest of it.'
'There has been a deliberate decision by governments of all colours to target funding towards disadvantaged schools and areas with higher costs, and that has led to a decline in funding for some of the best schools in the country.'
Of the 36 councils with grammar schools, only two put more money into pupils in grammar schools—£10 more per pupil in Essex and £32 more per pupil in Kirklees. The largest gap was in Slough where grammar schools received around £1,300 less per pupil on average than the other state schools in the area.  
The government opposes opposition plans to open new grammar schools on a large scale, and has maintained Tony Blair's 1998 ban on new grammar schools.
Administrator
Labour Party Adviser
Foreign Office and Ministry of Defence Moderator
Media Supremo
Whatever happened to UKIP?
The UKIP leader, Nigel Farage, has announced that his party will back a transition to the Single Transferable Vote system when the question of whether to do so is asked in a nationwide referendum next Thursday.
UKIP has long campaigned for proportional representation, and whilst Mr Farage said that STV was 'not quite what we had in mind,' it was 'infinitely better than the present system, which rewards the establishment parties at the voters' expense.'
Which way UKIP would swing on the referendum was unclear, with the party having been intensely sceptical of much of the Government's 'Great Reform Bill,' but it is clear to most observers that the STV system would benefit UKIP in future elections - and perhaps for that reason alone, Mr Farage is keen to see the reform get through.
But the move is likely to alienate core UKIP voters - mostly disaffected older Conservative voters, and working class former Labour voters - who are judged by pollsters to be the most hostile to the proposed change in Britain's voting system.
It's another step in a long and fractious story of UKIP's fall from grace, with the party now polling at an average of just 7% - way below its 17% peak in June 2014, and its lowest polling figure since September 2013.
So whatever happened to UKIP, and why has the party which once so threatened the political establishment now begun to sink below the radar?
The answer is multi-faceted, and begins and ends with the Conservatives. By pledging an in-out EU referendum - and allowing some of its most prominent speakers, including the Shadow Foreign Secretary and a former Shadow Chancellor, to advocate for 'leave' - the Tories have swept up would-be UKIP votes, who buy into the message that whilst Farage might like to deliver a referendum, only the Conservatives can actually do so. More recently, the Conservatives' tough talking on Iran and Pakistan has enamoured the constituency of the 'patriotic working class,' who find in figures such as William Croft and Boris Johnson charismatic strongmen in whom they can put their trust. In the longer term, the Conservatives' place in opposition rather than in government has emboldened them, insofar as one need no longer be wary of the liberal Cameronite agenda, the austerity that accompanied it, or the general unpopularity of the last Tory government: those who want to rebel from the government and who are on the right need not choose UKIP, for the Conservatives are now the main Opposition force once again.
Other factors, of course, have played their part. The general sense of urgency around Britain's prospective departure from the European Union has diminished, as the issue has been relegated to the corners of British political debate whilst politicians are much more concerned with debating fundamental issues of a sluggish economy, radical new Tory education proposals, and possibly the most divergent fiscal programmes that the two main parties have put forwards since the 1980s.
Samantha Ryan's rebranding of the Green Party as a patriotic, sometimes authoritarian, always controversial force has attracted the working class 'white van men' who would once have seen UKIP as their natural home - even if she has, admittedly, shed a huge amount of the party's longstanding supporters in the process.
And the renewed ascendancy of the Lib Dems has had the effect of crowding out other organisations traditionally regarded as 'protest parties.' And whilst the Lib Dems may now have been in government for six years, their position as the junior party in whatever coalition they join has enabled them, this time at least, to maintain a plausible degree of separation from the most unpopular government policies.
But UKIP should not be underestimated as a spent force. With the European migrant crisis rearing its head, the candidacy of Donald Trump sending shockwaves across the United States and nationalists such as Marine le Pen doing well in continental Europe, there is still a considerable gap in the market for a right-wing populist movement of the kind that Nigel Farage's band of brothers represents. Time will tell if UKIP can regain its footing and recover from its recent travails, or whether it will be consigned to the dustbin of history like the SDP before it.
Administrator
Labour Party Adviser
Foreign Office and Ministry of Defence Moderator
Media Supremo
How STV could make Britain ungovernable
Forecasts conducted independently by UK Elect suggest that, on present polling figures, a general election under the Single Transferable Vote system would leave no one party with an overall majority in the House of Commons - and, given the current political landscape, make it virtually impossible for any coalition with such a majority to be formed.
The projection shows the Conservatives winning 284 seats despite a dominant lead in the opinion polls, leaving them well short of the 326 they would need for an overall majority in the House of Commons - which would allow them to push legislation through alone.
Should they ally with the Liberal Democrats, the Conservatives would be able to form such a majority - but the Lib Dems have been abundantly clear that they will not work with the Tories whilst Dylan Macmillan continues to lead them, and the bad blood between the two parties makes such a coalition virtually unthinkable.
The Tories could work with the SNP, but even that arrangement would not form a majority in the House of Commons - and the Conservatives and SNP, who are each other's main opposition in Scotland, are unlikely to want to work together.
For Labour, who the projection suggests would narrowly beat the Liberal Democrats to win 165 seats, the most obvious option would be to reinvigorate its existing coalition with the Lib Dems. The Lib Dems, with 144 seats, would not be able to give Labour a majority: together, the parties would fall 17 seats short.
The only other possible arrangement for a majority to be formed is for the Conservatives and Labour to work together - and it doesn't take a political genius to work out that that isn't going to happen.
So an election under STV could render Britain totally ungovernable, insofar as it would become impossible to form a stable majority in the House of Commons. This, inevitably, would lead to a highly unstable situation in which parties would have to strike deals on every individual piece of legislation. No government could be sure of its own survival, and the result would likely be a descent into 'moderate' mediocracy, with no Prime Minister able to exert the authority to deliver any kind of radical policy.
For the Conservatives, there is no pathway to government under STV while Dylan Macmillan continues to lead the party. For Labour and the Liberal Democrats, there is currently no way into government at all. The SNP would see their representation in the Commons shrink dramatically, and the biggest losers of all would be UKIP, winning just one seat out of 650.
Administrator
Labour Party Adviser
Foreign Office and Ministry of Defence Moderator
Media Supremo