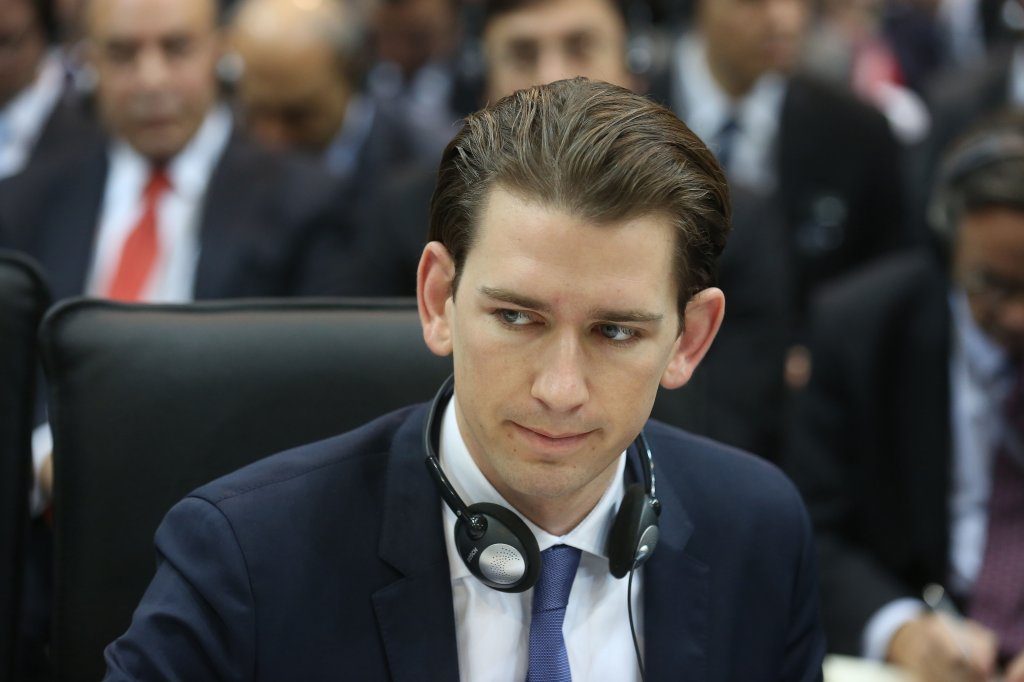 Name:
Nicholas 'Nicky' Alexander Aeneas Mountstuart
Age:
33 (Born 24th February 1968, British Hong Kong)
- 20 points
Gender:
Male
Ethnicity:
White British
Sexuality/Family:
Heterosexual, married with 2 children
Religion:
Roman Catholic
- 3 points
Class:
Upper Class
Avatar:
Sebastian Kurz
Discord Username:
Max
Education:
Ardvreck Preparatory School, Perthshire (1974-1980)
Fettes College, Edinburgh (1980-1985)

- 7 points

BA; Classics, Christ Church College, Oxford (1985-1987) - 5 points
LLB; University of Edinburgh (1987-1988) - 5 points
Career:
Political Section, Conservative Research Department (1988-1990) - 5 points
Called to the Scots Bar aged 22* (1990)
High profile Advocate specialising in constitutional, regulatory and heraldic law (1990-Present)
Standing Junior Counsel to the Secretary of State for Scotland (1992-1995)

- 15 points

Deputy Director, The European Foundation (1995-1997) - 10 points
Party:
Conservative
Constituency:
Penrith and The Border
Faction:
No Turning Back
Parliamentary Career:
Member of Parliament for Penrith and The Border (1997-Present)
Parliamentary Private Secretary to the Leader of the Opposition (1998-1999)
Shadow Minister for the Cabinet Office (1999-2001) - 6 points
Awards & Honours:
Appointed Queen's Counsel (1999)
- 10 points
Biography:
Nicholas Alexander Aeneas Mountstuart was born a child of the Empire; in the British Colony of Hong Kong in 1968, whilst his father Major Sir John Mounstuart, Bt was stationed at the Chinese border as a regimental second in command for the Gurkha Rifles. Nicholas comes from a long line of minor Scottish aristocracy, his grandfather was Chief Herald of Scotland, the Lord Lyon King of Arms, and through his mother's family he is distantly related to the Queen Mother. Nicholas, or Nicky as he is commonly known to most people, will eventually succeed his father as the 16th Mountstuart Baronet and be known as Sir Nicholas Mountstuart.
N.B - The A-Team graciously agreed that I could delay my reward until I choose to kill off IG father.
Educated at Ardvreck Prep School in Perthshire, close to the family home - alongside future Tory MP Oliver Drummond-MacBeath, who would go on to become his best friend and best man at each others weddings. He then was sent to boarding school in Edinburgh, Fettes College, a decade or so after the future Labour Prime Minister Tony Blair. At Fettes, Nicholas captained the Rugby First XV and then went on to win a Rugby blue at Christ Church College, Oxford where he read Classics. On the advice of close family friend Sir Nicholas Fairbairn, a prominent Scottish QC and MP, Nicky then went back to Edinburgh to take a Law degree; the focus on Grecian philosophy and classical oratory/rhetoric proved the perfect training ground for a future Conservative Member of Parliament.
Not wanting to go straight in to practise as a Scottish barrister, Nicholas secured a job at the Conservative Research Department in London. His talents were quickly spotted, and he became part of an up and coming set of young Tories known as the 'Smith Square Set'; other notables being David Cameron, George Osborne, and Jonathan Hill. Mountstuart worked on the political section of CRD, and was eventually seconded to the Chancellor of the Exchequer Nigel Lawson, and his successor John Major as a speechwriter. Nicholas was credited with adding 'polish and clarity' to the performance of the Government's Treasury Frontbench, and offered a job as Special Adviser to the Secretary of State for Trade and Industry. But after two years in London, working behind the scenes - the attraction of returning to Scotland and holding the jury's attention in court proved to be too much of a temptation.
At the age of 22, Nicholas was called to the Scots Bar, easily one of the youngest men to do so in the history of the Scottish legal system. He garnered a reputation for his mastery of complex and often very niche trials; impressing the courtroom with his easy style and flair. Later recognised for his talents by the Secretary of State for Scotland, Ian Lang, and asked to be Standing Junior Counsel at the Scottish Office - where he represented the Government in a number of judicial review cases.
But throughout the 1990s, Mountstuart looked on as the Conservatives under John Major lurched from crisis to scandal, and back to more crisis. He watched in disgust as the Eurofederalists in the party had managed to convince the Government to enter in to Maastricht without so much as a fight for Britain's national interests, believing the Treaty to be fundamentally incompatible with British law and the first step on the road to a European super-state. Convinced that he had to do everything he could to bring the legislation down, Nicholas accepted an offer from Bill Cash MP to become Deputy Director of the European Foundation, a new thinktank with Baroness Thatcher as patroness - and worked to raise public profile of just how far Britain had come from entering a free trading bloc, to what was now something entirely different. By the time of the 1995 leadership challenge, Mountstuart was a key member of John Redwood's campaign team, not out of any great love for Mr Redwood, but to save the party from sure oblivion at the next general election under the Prime Minister's watch.
Against the express wishes of Central Office - Mountstuart was selected as Conservative candidate in the 1995 Perth and Kinross By-Election following Sir Nicholas Fairbairn's death from alcoholism. The ever rising unpopularity of the Major Government meant he came a humiliating third place behind Labour. And though not popular with the wet Tories like Heseltine and Patten, the Tory Association in Penrith and The Border, an uber safe seat right on the Scottish border - selected Nicholas to be their candidate in 1997, and he survived the national wipe-out to be elected to Parliament at the age of 28, he'd be the youngest Conservative MP in the House until 2001, when old friend Oliver Drummond-Macbeath, born a month earlier, managed to win back Edinburgh Pentlands.
Nicholas Mountstuart was a strong supporter of William Hague from the beginning, they had roughly similar political views, and in Hague there was finally a Tory Leader who recognised the party couldn't fight New Labour by becoming a lighter shade of blue in a vague attempt to appeal to voters who would never vote for us anyway. After a relatively short period on the backbenches, Mountstuart was appointed PPS to the Leader of the Opposition and became his eyes and ears on the backbenches. Westminster gossip seems to believe that it was Nicholas who played an instrumental role in stopping Michael Portillo from getting back in to the House of Commons at the Kensington and Chelsea By-Election after rumours about his sexuality appeared to be unearthed, he of course has never admitted to anything - but Peter Hitchens won the nomination, and entered Parliament as a Tory MP.
By 1999, Mountstuart was promoted from Hague's enforcer to Shadow Minister for the Cabinet Office, in effect the 'Shadow Minister for the Today Programme'; regularly rolled out as the Conservative panellist on Question Time, the Today Programme, and Newsnight
[- 10 points]
- becoming a very well known politician nationally and giving him profile. He was also named a Queen's Counsel on the recommendation of the Government, through the personal intervention of the Lord Chancellor Derry Irvine, who seems to regard Nicholas well, even if they are on different sides of the aisle.
Fast forward to just after the 2001 General Election, and the untimely resignation of William Hague; Mountstuart is determined to keep the party on the right track, believing that the Tories can win again on a comprehensive platform of law and order, stopping mass immigration, saying no to further European integration, cutting tax, red tape, and bureaucracy.
He is married to Lady Charlotte Olliphant, daughter of the Earl of Crieff. They have two children, John-Henry and Charles. He enjoys the operas of Wagner, and countryside pursuits.
Electoral Record:
1995 Perth & Kinross By-Election
SNP - Roseanna Cunningham - 16,931
Labour - Douglas Alexander - 9,620
Conservative - Nicholas Mountstuart - 8,990
Liberal Democrats - Veronica Linklater - 4,952
1997 General Election: Penrith and The Border
Conservative - Nicholas Mountstuart - 23,300
Liberal Democrats - Kenneth Walker - 13,067
Labour - Margaret Meling - 10,576
Referendum -Charles Pope - 2,018
2001 General Election: Penrith and The Border
Conservative - Nicholas Mountstuart - 23,088
Liberal Democrats - Kenneth Walker - 15,589
Labour - Michael Boaden - 5,557