Posts: 47
Joined: Wed Dec 02, 2020 10:21 am
Constituency: Ochil and South Perthshire
XP: 0
Trait(s): None
Details of Pre-Round News, including things that happened differently in this game's reality.
Rt Hon. Alexander 'Alec' Dundas QC MP
Secretary of State for the Union (2019-Present)
Member of Parliament for Ochil and South Perthshire (2017-Present)
Posts: 28
Joined: Mon Dec 07, 2020 11:09 pm
Constituency: The Pound
XP: 0
Trait(s): Chief Woofer
Discord username: JunkyardCat
June 1999
HUMILIATION FOR BLAIR, AS TORIES MAKE STRONG GAINS AT THE EUROPEAN ELECTION
Voters punished the Prime Minister for his inconsistent stance on the Euro.

The Conservatives have overturned Labour's 1994 landslide majority in the European Elections, gaining nineteen seats, in a night hailed by William Hague – the Leader of the Opposition – as a vindication of his anti-Euro stance.
On a disastrous night, worse than even the most severe forecasts, Labour have lost thirty five of their MEPs – more than half of the seats they won last time round. Squeezed out; from the right by the Conservatives and the Eurosceptic UKIP, from the centre by the Liberal Democrats, and from the left by the Green Party, and the various nationalist parties; it is clear that Labour's 1997 will not simply carry over into other electoral contests.
With all votes having now been counted, Labour received just 23.5% of the vote – barely half of what they received at the 1997 General Election. Exit polls suggest that this has been because voters simply didn't believe Labour's stance on the Euro, the currency that is expected to be adopted by the majority of the Continent next year. After a number of u-turns publicly made by the Prime Minister, it is believed that he pushed pro-Euro voters to the Lib Dems, and anti-Euro voters to the Conservatives and UKIP.
The smaller parties will be celebrating tonight, having proved that they can provide a genuine alternative to the Government and Opposition. The Liberal Democrats in particular have had a strong night, gaining ten seats – bringing their total number of MEPs to twelve. UKIP, the right wing eurosceptic party that ran on a platform of leaving the European Union, will be equally pleased with their returns – delivering two MEPs, and representation in the EU. But it is in the Regions where there is real cause for concern for Labour. Plaid Cymru and the SNP topped the ballot in their respective nations, picking up a total of five seats.
Though there is much to salivate over for the Conservatives after tonight – they won the plurality of votes everywhere outside of the North East and the Regions – we should be cautious before jumping to any conclusions. Voters typically only vote in European elections when they have a particular interest one way or the other over the EU and the Euro. At this election, just 24% of eligible voters chose to cast their ballots. By comparison, more than 70% chose to do so at the last General Election.
But it has nonetheless been a very bad night for Labour and the Prime Minister, and a very good one for the Conservatives under Mr Hague. It's clear to see how these results unfolded – indecision on the part of the Prime Minister came up against a slick and decisive campaign from the Tories, who have delivered a hammer blow against the pro-Euro cause.
The full results are as below.
Con:
37 MEPs (+19) / 34.9%
Lab:
27 MEPs (-35) / 23.5%
Lib:
12 MEPs (+10) / 13.3%
UKIP: 2 MEPs (+2) / 6.6%
Grn: 1 MEP (+1) / 5.8%
SNP: 3 MEPs (+1) / 27.7% [Scotland Only]
PC: 2 MEPs (+2) / 30.1% [Wales Only]
DUP: 1 MEP
SDLP: 1 MEP
UUP: 1 MEP
Posts: 249
Joined: Fri Dec 04, 2020 1:26 pm
Constituency: Macclesfield
XP: 0
Trait(s):
Discord username: @BarclayCalhoun#5933
Battle Lines Drawn Between Blair and Brown
July 1999
Trouble in paradise? Sources close to the Chancellor say that he was 'fuming' after Labour's lackluster performance in the European Parliamentary elections.
After last year's lackluster performance in the European Parliament Elections, which many analysts believe to be a good weathervane for domestic electoral success in the years to come, battle lines are being drawn between the Prime Minister, Tony Blair, and his Chancellor of the Exchequer, Gordon Brown. Sources close to the Chancellor, whose temper is well known, say that he was "fuming" on election night, and confirmed that the two were "at loggerheads" the next morning in a cabinet meeting.
The Prime Minister's close friend and adviser, Allastair Campbell, spoke to the press this morning, stating that "as with any group of colleagues, there are going to be moments of disagreement and vigorous discussion, which is all that this was. Rumours of 'battle lines' are drastically overstated," he said. "The Prime Minister and Chancellor are more than happy to continue to work together, and are more than capable of doing so."
Despite Campbell's calming reassurance, there are those within Labour Party circles who are not so sure. Nick Brown, Member of Parliament for Newcastle upon Tyne East and prominent ally of the Chancellor, told reporters that "the result is a disgrace," and blamed it on the Prime Minister's indecision over the single currency. "We went into an election without a clear answer to the most important question that was being asked," he said. "And that is a death-sentence for our candidates. That we got this many elected is a dream, frankly. Tony Blair may be a popular figure, but he's not backing that up with any substance. He can't take a decision and stick with it. His U-Turning on the single currency has cost us dearly and I think that's what's got Gordon so bothered."
Neither the Prime Minister nor the Chancellor would comment on the rumoured division, but colleagues of both have confirmed that there "has never been a bigger gap between the two," and that the party is beginning to see pulling apart between a "Blairite" and "Brownite" factions.
Who Needs Whom?
Will Hutton, chairman of the Industry Society, called this "a serious problem for the Prime Minister."
"For all of his personal popularity, Tony Blair relies heavily on the Chancellor for policy advice," said Hutton. "Blair brings the flash, but Brown brings the substance. When it works, it's a marriage made in heaven; when it doesn't work, well, then it's just a marriage." The Oxford man also noted that "Blair will struggle if he doesn't have someone like Brown, if not Brown himself, onside to provide sound, effective policy advice. In a lot of ways, Brown is the brains behind Labour, if Blair is the brawn."
It remains to be seen whether the Prime Minister and his Chancellor can be reconciled or whether something else will give. For the time being, there is no word of either man being removed from their posts, and with the sense of Westminster being that a general election will be coming within a year, major personnel changes are looking even less likely.
Lt. Col. Sir Barclay A.A. Stanley, Rtd., KBE
Member of Parliament for Macclesfield

Armed with nothing but a pint of gin, Sir Barclay went to battle against the forces of Communism, Socialism, and Liberalism.
Posts: 249
Joined: Fri Dec 04, 2020 1:26 pm
Constituency: Macclesfield
XP: 0
Trait(s):
Discord username: @BarclayCalhoun#5933
Yugoslav Troops Said to Cross Into Albania
April 1999
Milosevic denies Yugoslav incursion into Albania, the world waits for reaction.
In a significant escalation of tensions between the two Balkan neighbors, Albania on Tuesday charged that Yugoslav troops had violated its territory, shelling and burning homes in a remote border village before withdrawing.
Yugoslav officials denied the report, but international peace monitors in the border area said Yugoslav troops had entered the village of Kamenica and set part of it on fire before withdrawing after 1 1/2 hours.
Pier Ganggrigp, a monitor for the Organization for Security and Cooperation in Europe, said at least 50 Yugoslav soldiers penetrated about a third of a mile into Albania at 1 p.m., easily dispersing 10 Albanian border police with small-arms fire.
The incursion had been preceded by Yugoslav shelling of the area, he said, speaking to the BBC from Bajram Curri, near Kamenica.
Kamenica has been a staging area for infiltration into Kosovo of fighters from the rebel Kosovo Liberation Army, and the Yugoslav incursion also was in an area where clashes between Yugoslavia and the KLA have been reported for the past three days. The incursion may have been in response to KLA activities in the area, an Albanian police source said.
Even before Tuesday's incident, relations between Albania and Yugoslavia had been strained.
Albania has watched in anger as Yugoslav army troops and police have forced more than 500,000 ethnic Albanians from their homes in Kosovo in recent weeks, including 300,000 to Albania itself. According to the refugees, the campaign has been accompanied by widespread rapes, robberies and killings committed against ethnic Albanians in Kosovo.
Yugoslavia, meanwhile, has been angered by Albania's support for NATO airstrikes against Yugoslavia and by its sheltering of the KLA. The guerrilla group is battling for independence for Kosovo, which is now a province of Serbia, the dominant Yugoslav republic.
"These accusations are absolutely false. Yugoslav troops did not enter Albania," said Nebojsa Vujovic, a spokesman for the Yugoslav Foreign Ministry.
Although the reported incursion was the most serious on record, OSCE monitors have noted previous violations of the border by Yugoslav forces in recent weeks.
The border is lightly defended by Albanian border police who have "explicit orders" never to fire back at the Yugoslavs, the monitor said. The Albanians "don't seem to have any capability to defend anything," he added.
One KLA commander, interviewed in Krume in northern Albania on Monday, acknowledged that rebel forces have been crossing into Kosovo near Tropoje, a KLA stronghold, in recent days. He said that led to a firefight Friday in which at least seven KLA fighters were killed.
The officer, who refused to give his name, claimed that the KLA had captured three Yugoslav officers in the action and killed "many" Yugoslav troops.
Although Albania is not officially supporting the KLA's military activities, its backing for the rebels is apparent.
KLA forces move freely about northern Albania. On Monday, a convoy carrying at least 300 new KLA recruits was sighted in Krume, proceeding northward and riding in military trucks identical to those used by the Albanian army.
Meanwhile, nearly 5,000 additional ethnic Albanians entered Albania on Tuesday after being ordered by police to leave their homes in several villages near Pristina, Kosovo's capital.
The refugees, many of whom were from Hence near Pristina's airport, told of being stoned and shot at as they were driven for nearly 24 hours on a roundabout route toward the border crossing at Morine. Along the way, they said they passed burned and empty homes and dozens of police checkpoints.
According to refugees interviewed here, at least two women and a boy were killed en route to the border, and young, attractive women were pulled from the convoy by police apparently intent on raping them.
In one incident, a Serbian policeman scrutinized a wagon and focused his attentions on Shpresa Halimi, 22, of Klina. "How old?" he demanded, according to her brother-in-law, Arsim Halimi, who was in the same wagon.
The policeman pulled Shpresa Halimi out of the wagon and ordered the other refugees to get going. The terrified woman broke away from her captor and was trying to climb back into the moving wagon when the policeman opened fire with his machine gun, shooting her in the back and killing her, Arsim Halimi said.
Shpresa Halimi's husband of nine months was traveling in another wagon and did not learn until later that she had been killed.
"She was young and beautiful," said her husband, Rashim Halimi, 29, standing amid other refugees in Kukes on Tuesday as the news of his wife's death was still sinking in.
"She was a brave woman and she wanted to escape."
This article was originally published in the Las Angeles Times
Lt. Col. Sir Barclay A.A. Stanley, Rtd., KBE
Member of Parliament for Macclesfield

Armed with nothing but a pint of gin, Sir Barclay went to battle against the forces of Communism, Socialism, and Liberalism.
Posts: 249
Joined: Fri Dec 04, 2020 1:26 pm
Constituency: Macclesfield
XP: 0
Trait(s):
Discord username: @BarclayCalhoun#5933
Yugoslav, NATO Generals Sign Peace Agreement for Kosovo, Alliance Will End Air Campaign When Serbian Troops Pull Out
June 1999
Ethnic Albanians in Yugoslavia have suffered a huge number of deaths, inquiry to be held.
Yugoslav and Western generals signed a military agreement yesterday to end NATO's 78-day air war against Yugoslavia, provided that the Balkan nation's armed forces begin a "demonstrable" withdrawal from Kosovo by this afternoon and complete the pullout in 11 days.
The agreement calls for an immediate cease-fire in Kosovo and provides for a pause in NATO's bombing campaign beginning perhaps as early as today if the Yugoslav forces start removing troops and equipment.
"The war has ended," Yugoslav General Svetozar Marjanovic, one of the negotiators, declared to reporters in this Macedonian border town after the pact was signed.
NATO Secretary-General Javier Solana said he would order a halt to the air strikes, which began March 24, upon word from General Wesley Clark, NATO's supreme commander, that the pullout had begun.
A NATO official said Clark would "wait for the gray light of dawn" today, then send reconnaissance aircraft over Kosovo to see if Yugoslav troops and police had begun to quit the ravaged province.
Solana hailed the Kumanovo accord as "a great day for the cause of justice and the people of Kosovo."
President Clinton was more cautious, calling the agreement "another important step" but warning that NATO would "watch carefully" to make sure Yugoslav President Slobodan Milosevic complied with it.
Yesterday's military accord fleshes out a basic deal that was struck a week ago between Western leaders and Milosevic.
The discussions that began on Saturday and led to the military agreement nearly broke down several times over a number of tricky issues, including whether Yugoslavia would begin withdrawing its troops before NATO declared a pause in the bombing.
NATO declared no pause yesterday, and its commander of the Kosovo operation, British General Michael Jackson, said the alliance would continue air strikes until it saw proof of a "verifiable and orderly" retreat by Yugoslav troops and police from the Serbian province.
There were no reports of NATO bombings after the agreement was signed, however.
Nebojsa Vujovic, who represented the Yugoslav Foreign Ministry at the military-technical talks here, told reporters after the signing that the withdrawal would start "in a matter of hours."
The U.N. Security Council, playing its role in the delicate choreography of peace, met yesterday to discuss a resolution authorizing the peacekeeping force that would protect the returning refugees and the civilian administration that would govern Kosovo.
The session ended without a vote, due largely to China's insistence on amendments to severely limit future NATO military actions. The council was expected to reconvene early today.
The military agreement provides that once NATO has verified the beginnings of a Yugoslav withdrawal, the alliance will call a bombing pause and simultaneously seek a U.N. Security Council resolution to authorize a peacekeeping force to enter the province.
The planned 50,000-strong force, to be constituted primarily of NATO troops and led by NATO commanders, is to enter Kosovo on the heels of the departing Yugoslavs, to prevent an anarchic and dangerous power vacuum and begin preparations for the eventual return of more than 800,000 ethnic Albanian refugees who fled or were driven from their homes.
With the deal signed, NATO began moving the first peacekeeping troops toward Kosovo.
The first to deploy -- well before all Yugoslav forces have withdrawn -- will be a team of British de-mining experts, members of the famed Gurkha unit in the Fifth Airborne Brigade. Their task will be to help clear explosives that were installed by Yugoslav troops on a dozen or so bridges and tunnels along the road north of the Blace border crossing to block a NATO ground offensive that never came.
U.S. Marines landed on the shores of Greece early today, then headed for Macedonia. The troops were greeted by signs that read "Baby Killers" and "NATO go home." Many Greeks, who share cultural and religious ties with Yugoslavia's Orthodox Serbs, have opposed the NATO airstrikes.
U.S. Army units from Germany and Albania also were to start converging on Macedonia.
One key aspect of the peacekeeping force remains unresolved: whether and how Russian troops will participate in the effort alongside NATO troops, which are to be under unified alliance command. Deputy Secretary of State Strobe Talbott is to arrive in Moscow today to discuss the issue.
For purposes of the withdrawal, which is a complex logistical task, the plan divides Kosovo into northern, central and southern zones. Yugoslav forces are to make a "demonstrable" -- if not complete -- withdrawal from the northern zone within the first day, freeing up territory that troops now in the central and southern zones can move into on their way out of the province.
Five days later, all forces are to be out of the southern zone. After another three days all forces are to be out of the central zone and, by the 11th day, all the forces are to be out of the province completely.
Clark will use surveillance photos and intelligence from other sources to make this judgment. U.S. officials said NATO would give the Yugoslavs some wiggle room, provided they were clearly trying to meet the deadlines.
The swift vote by NATO ambassadors to endorse the deal allows NATO's military arm to resume the bombing without further permission in case the Yugoslav forces fail to follow through on yesterday's agreement. Officials said this was designed to prevent Milosevic from trying to divide the 19 allies over the potentially difficult issue of resuming the air strikes.
NATO designated roads in the northern end of the province that the Yugoslav forces can use to depart without risking attack by NATO aircraft. Once all troops are gone, NATO will declare the air campaign to be officially ended.
One urgent question is whether the cease-fire will be observed by the Yugoslav forces and the ethnic Albanian rebels of the Kosovo Liberation Army. The two forces have continued to battle fiercely in the southwest corner of the province.
But alliance officials insisted that the KLA is on board. In a statement late yesterday, the rebel army said it would honor a cease-fire once the Yugoslav forces stop their operations in Kosovo and start to withdraw. The KLA also said it would reserve the right to return fire if Serb units attack.
Yesterday's accord ended five days of maneuvering in which Milosevic tried to use ambiguities in the peace plan he accepted last week to gain time and new concessions on the timing of the withdrawal and the halt of bombing.
For the Yugoslav government, the consequences of the delay seemed to have been terrible. During the week since the general agreement was reached, NATO claimed to have attacked and destroyed 29 tanks, 93 armored personnel carriers, 209 field artillery pieces, 11 anti-aircraft gun positions, 86 mortars and many support vehicles and prepared positions. Hundreds of Serb soldiers are believed to have been killed.
THE NEXT STEPS
The signing of the Koovo peace plan set in motion a number of steps to be taken to end the Kosovo conflict.
-- YUGOSLAVIA TROOPS: Belgrade says it will begin pulling its forces from Kosovo today. Yugoslavia has 11 days to withdraw all police , paramilitary and military forces and remove land mines and booby traps.
-- AIR STRIKES: NATO air accack will be suspended once Yugoslavia's compliance with the agreement can be verified.
-- U.S. PEACEKEEPERS: The lead elements of the U.S. peacekeeping contingent will enter Kosovo 24 hours or more after Serb forces begin withdrawing.
-- MULTINATIONAL PEACEKEEPERS: A 50,000-strong multinational peacekeeping force to ensure the safe return of refugees will be sent into Kosovo, along with its rules of engagement. The U.N. Security Council and NATO's political body, the North Alantic Council, must formally approve an order for the peacekeeping mission to start.
-- WAR CRIMES: The U.N. War Crimes Tribunal is preparing to send investigtors into Kosovo along with a peacekeeping force to gather evidence of war crimes, including wide-spread murder and rape.
-- REFUGEES: The complicated process of repatriating ethnic Albanian refugees will begin. 860,000 people, mostly etnic Albanians, have fled Kosovo since NATO's air attack began March 24.
This article was originally written by the Associated Press in 1999.
Lt. Col. Sir Barclay A.A. Stanley, Rtd., KBE
Member of Parliament for Macclesfield

Armed with nothing but a pint of gin, Sir Barclay went to battle against the forces of Communism, Socialism, and Liberalism.
Posts: 2
Joined: Fri Dec 04, 2020 4:19 pm
XP: 0
Trait(s):
Blair rules out Euro entry "for now" amid tensions with Gordon Brown – February 2000
Tony Blair in the Chamber of the House of Commons, announcing the government's Euro U-turn.
In a decision likely to Prime Minister Tony Blair today announced that his government will not take the UK into the European single currency. In a statement to the House of Commons made by the Prime Minister himself, rather than Chancellor Gordon Brown, Blair said that having weighed up the Treasury analysis and the "significant expression of the public mood about the Euro," that the government will not be taking the UK into the single currency when it comes into force in 2002. However, amid jeers from the Conservative benches and some of his own backbenchers, Blair said that this was a decision "for the moment, for now, and subject to change based on those five economic tests." Conservative leader William Hague mocked the "weak and wobbly" approach to governance he said the Prime Minister has displayed, adding: "Not only has the Prime Minister only bended to the will of the people, and his Chancellor, after months of delay, he has also done so in a way which will only cause more confusion." Lib Dem leader Charles Kennedy called the Prime Minister's announcement "confusing and wrong", claiming that Labour's lack of a consistent approach to the question of the single currency will cause "severe" ramifications for foreign investment in the UK. Both the Conservatives and the Liberal Democrats back growing calls for the issue to be put to a referendum, a subject that the Prime Minister has not provided a definitive answer on. Sources close to those involved in the decision cite personal tension between Blair and Brown as the most important factor behind the decision.
Tensions between the PM and Chancellor escalated following the landslide defeat for Labour in the 1999 Euro elections.
The road to this decision has been a difficult one for the government, starting with the Treasury's first assessment of the UK's capability to join the single currency in 1997, with the "five economic tests" concluding with the opinion that the UK was not ready to join the Euro, despite the joint desire at that time of both Blair and Brown for the UK to join the single currency. However, as public opinion against the Euro became more solidified, and personal tensions between the two men grew deeper, Brown began adopting an even more cautious stance towards the Euro and hinting a public vote on the matter, saying in December 1998 that "such a decision is an irreversible one, and for myself, taking that decision is dependent on the consent of the British people," a move which is said to have deeply frustrated Mr Blair. Following the victory of the Conservatives and the hard Euro-sceptic UK Independence Party in the 1999 Euro elections, bolstered by William Hague's "Save the Pound" campaign, disputes between Blair and Brown led to the second economic assessment in two years. This concluded in November last year, with the Treasury judging that the UK was still not ready to join the Euro. Despite this, Blair declared at a meeting of the Euopean Council in Helsinki in December that it was "full steam ahead for European integration," comments which have haunted him ever since.
With this announcement raising more questions than it answers, the continuing tension between the two most powerful men in Britain over a question that will decide the future of the United Kingdom shows no signs of dying down.
Posts: 28
Joined: Mon Dec 07, 2020 11:09 pm
Constituency: The Pound
XP: 0
Trait(s): Chief Woofer
Discord username: JunkyardCat
SHOCKWAVES SENT THROUGH LABOUR - AS LIVINGSTONE WINS LONDON MAYORAL ELECTION
Labour figures were left disheveled this morning, as the party finished fourth in London's Mayoral contest - beaten out by Independent Ken Livingstone (pictured)
Ken Livingstone has won a convincing majority in his bid to become London's first Mayor, beating out Conservative Steven Norris in the second round run-off. The MP for Brent East, and the former Leader of the Greater London Assembly from 1981 until its abolition in 1986, was expelled from the Labour party earlier this year because he refused to step aside for Tony Blair's favoured candidate Frank Dobson, who had narrowly secured his party's nomination by just three percent.
After a bitter factional war within London Labour, which even spilled over onto the national stage at times, it is clear that the forcing of Dobson onto local activists has ended in tears for the Blairites. Livingstone will feel that he has vindicated the socialist principles that he ran on - and it seems that London is with him.
Whilst there has often been a tendency in the media to focus on the skirmishes between Blairite and Brownite - it is evident that the fights of the 1980s are still not yet done. Livingstone is a long standing friend of notable Bennites, including former leader Michael Foot.
But this scrap seems not to have damaged Livingstone's campaign, instead deflating Labour candidate Frank Dobson's. He finished a shock fourth place, being edged out by Liberal Democrat Susan Kramer.
Full results below:
First Round

Ken Livingstone

(

Independent

) - 39.0%

Steven Norris

(

Conservative

) - 27.1%

Susan Kramer (

Liberal Democrat

) - 12.9%

Frank Dobson (

Labour

) - 12.1%

Second Round Run-off

Ken Livingstone

(

Independent

) - 57.9% (WINNER)

Steven Norris (

Conservative

) - 42.1%
As Livingstone took to the results stage, he delivered a swipe at those that had stood in his way - "As I was saying before I was so rudely interrupted fourteen years ago…"
Posts: 47
Joined: Wed Dec 02, 2020 10:21 am
Constituency: Ochil and South Perthshire
XP: 0
Trait(s): None
Brownite Spinner-in-Chief Resigns

January 2000

Chancellor Gordon Brown's press secretary Charlie Whelan has announced he will give up his job as soon as an "appropriate opportunity" becomes available. Mr Whelan said it was "absurd" so much attention had focused on rumours about his involvement in the recent home-a-loan scandal.

But, in a statement explaining his actions, he said he could not longer carry on at his present job.

"I want to make it absolutely clear that I was not responsible for disclosing any information about Peter Mandelson's mortgage and I refute any suggestion that I was.

"I do however take the view that the job of press secretary becomes extremely difficult if the press secretary, and not the department he serves, becomes the story and the subject of excessive attention.

"It is absurd that, on the day the euro starts trading, in the week the Monetary Policy Committee is meeting and when the chancellor is working on a number of important initiatives for the New Year that there is such attention focused on me.

"Therefore, as soon as an appropriate opportunity becomes available, I will move but in the meantime I will continue to do my job at the Treasury to the best of my ability, promoting the New Labour policies on which Tony Blair and Gordon Brown have worked so closely for so long."

Speculation has surrounded Mr Whelan's future at the Treasury following the row over the downfall of former trade secretary Peter Mandelson.

Mr Whelan returned to work on Monday after spending 10 days out of contact after allegations he leaked information that led to the resignation of Mr Mandelson.

Mr Mandelson quit after it was revealed he had received a secret loan of £373,000 from then paymaster general Geoffrey Robinson to help buy his London home. Mr Robinson also resigned.

Like Mr Mandelson and Mr Robinson before him, Mr Whelan left his job still insisting he had done nothing wrong.

He was backed in this view by Prime Minister Tony Blair's press secretary who said there was "no evidence" Mr Whelan had leaked against the former trade secretary.

The Downing Street spokesman added that he did not believe Mr Whelan was the source.

Sir Bernard Ingham: He has been a liability from day one

The Guardian newspaper, which broke the story, itself took the unusual step of stating its information did not come from the Chancellor's office.

But some Cabinet ministers had been reported to have been demanding Mr Whelan's resignation.

Downing Street had moved to distance the prime minister from the row, saying: "It is a matter entirely for the chancellor as to who he employs".

Mr Whelan's departure from the Treasury comes as The Mirror newspaper revealed details of a memo to Mr Brown from Mr Mandelson asking him not to stand for the Labour leadership in the wake of John Smith's death in 1994.

The Mirror denies that the memo was leaked to journalist Paul Routledge by his close friend Charlie Whelan.

Leader of the House Margaret Beckett rounded on those attacking Mr Whelan.

"When people get cross about some of the things that happen they look for people to blame and the flak flies.

"But the government works well together as a whole and that includes the Treasury team."

Despite government moves to kill the story, Conservatives say that continuing row has exposed civil war at the heart of New Labour.

Shadow Trade Secretary John Redwood said: "Now the Brownites will be looking at a way of fighting back.

"If the man who didn't leak the home-loan story has to resign, will the prime minister now organise a proper leak inquiry to find out who did do it and sack him or her?"

Liberal Democrat Treasury spokesman Malcolm Bruce welcomed Mr Whelan's decision and said he should now leave his present job as speedily as possible.


Rt Hon. Alexander 'Alec' Dundas QC MP
Secretary of State for the Union (2019-Present)
Member of Parliament for Ochil and South Perthshire (2017-Present)
Posts: 249
Joined: Fri Dec 04, 2020 1:26 pm
Constituency: Macclesfield
XP: 0
Trait(s):
Discord username: @BarclayCalhoun#5933
Brown Begone, Blair Beleaguered
March 2000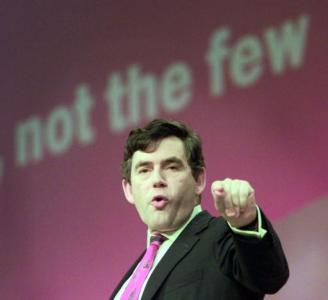 Gordon Brown is sacked as Chancellor after "vicious row" with Prime Minister in plain view of cabinet colleagues.
The man that has been hailed as the brains behind New Labour's political machine has been sacked, according to sources close to the cabinet. Gordon Brown, the mercurial and ill-tempered Chancellor of the Exchequer, has been removed from Cabinet in what some are calling an emergency cabinet reshuffle. The changes took place after another row between the Prime Minister and Chancellor in a cabinet meeting last Friday.
"It is no surprise that there has been tension between the two leading men of New Labour, especially after the Chancellor's personal friend and press secretary was alleged to have leaked information that has caused untold drama for the Prime Minister's close friend and political ally, Peter Mandelson," said political analyst, Will Hutton. "But my sources tell me that things finally came to a head on Friday last during a cabinet meeting when the Prime Minister, apparently, interrupted the Chancellor. It seems mostly like a straw that broke the camel's back incident and, I'm told, the conversation quickly devolved with the Chancellor accusing the Prime Minister of 'dithering' and 'killing everything we have worked for.'"
Both men, now firmly entrenched, were tight-lipped following what was, by all counts, a very personal squabble. When approached for comment, neither the Prime Minister nor the now-former Chancellor were prepared to offer comment.
Prominent allies of both men, however, were willing to speak their minds about the cabinet catastrophe. Defense Secretary,
Dame Caroline Blakesley
, who is close to the Prime Minister, said "Mr. Brown was quick to criticize because the Prime Minister wouldn't jump when he was told to," she said. "And he shouldn't -- he's the Prime Minister. The reality is that on questions like the Euro, a considered, analytical position is vital. The Prime Minister is absolutely committed to taking an analytical view and doing what the evidence shows is in Britain's best interest. Taking those actions will build on the strong foundations we have laid in this country, not destroy them -- setting the stage for a Labour second term."
Likewise, Brown-associate and Secretary of State for Education and Skills,
Dr. Mary MacAndrews
, said she would like the government to focus on what comes next, not personal fights. "It is very disappointing to see Gordon leave government after years of steady leadership at the Treasury," she said. "Gordon has been a true leader of the labour movement and pillar of this government. The British people want their government to lead and provide strength of character and we must ensure that we focus on the task at hand not internal squabbles."
Paul Boateng, MP for Brent South, has been given the keys to 11 Downing Street following Brown's departure. Boateng has served as Junior Treasury Spokesperson under Neil Kinnock, and is the first black Chancellor in British history. Most recently, he served as a Minister of State for the Home Office and has earned a reputation of being tough on crime.
Lt. Col. Sir Barclay A.A. Stanley, Rtd., KBE
Member of Parliament for Macclesfield

Armed with nothing but a pint of gin, Sir Barclay went to battle against the forces of Communism, Socialism, and Liberalism.
Posts: 2
Joined: Fri Dec 04, 2020 4:19 pm
XP: 0
Trait(s):
General Election 2001: Labour return to power with a reduced majority as opposition makes major gains.

Tony Blair's Labour Party has returned to power following Thursday's general election but has suffered major losses in an election which has seen large gains for the two largest opposition parties. With all the results now in, Labour has returned to power with a majority big enough to govern comfortably, however their majority has been slashed from 179 down to only 43, a result seen as a major humiliation for Mr Blair. The Conservative Party, under William Hague, witnessed a bigger recovery than expected, gaining dozens of seats back from Labour in a result likely to keep Hague's position as leader of his party secure. The Liberal Democrats, under new leader Charles Kennedy, were expecting a modest rise but have seen a huge surge over the latter half of the campaign, gaining enough seats to prove them a credible challenger to the two large parties.
Final results:
LAB: 349 (-72)
CON: 210 (+48)
LD: 70 (+23)
NAT: 11 (+1)
OTH: 19
In his own constituency of Sedgefield, where he was re-elected with 66% of the vote, the Prime Minister has said that the election results posed an "existential crisis" for the incoming government, and has vowed to "win back the trust of the British people," as his party earns the dubious honour of being the government elected with the lowest share of the popular vote in British political history. William Hague, celebrating the results with party workers, said that "the momentum is with us, and when this government eventually calls it quits and goes to the polls, we will win." Charles Kennedy, speaking in a victory rally in Truro, said that the era of three-party politics in the UK had begun, and said that "the largest cohort of Liberal Democrat MPs since the days of Lloyd-George are well placed to form the real alternative to this Labour government." Exit polling done for the BBC by the MORI polling company showed that issues of the economy and taxation, followed by European issues in third place, and healthcare and crime in fourth and fifth respectively. A majority of Britons found the Conservatives more convincing on Europe and on tax, whilst Labour was seen as the more competent party on the economy and healthcare, with a tie between the two major parties on the issue of crime. Recriminations have already begun on the Labour side, with a senior Labour source closed to sacked Chancellor Gordon Brown claiming that Blair's "vanity and self-interest, combined with an almost compulsive obsession with focus groups and polls, has led to this unmitigated disaster of a campaign." Sources in Blair's camp suggest that the Prime Minister, whilst personally surprised and disappointed with the results of the election, will not be standing down "for the foreseeable future," and plans to reshuffle his cabinet following the result.
Regionally, results differed, with the results in the North and in London taking Labour over the majority line. In the South East, Labour was reduced from 13 seats to 5, as a strong Tory performance overturned the smaller majorities in seats around the Thames Estuary, with controversial MP Robert Marshall-Andrews narrowly holding on in Medway. The South East also saw a strong Liberal Democrat performance, as they seized the three-way marginal of Hastings and Rye, and managed to run a strong second place in a number of seats, putting the Tories under threat in some of their biggest heartlands. The Tories also saw a recovery in the rest of the Home Counties and in the East, winning back Harwich, Castle Point, St Albans and Hemel Hempstead, but saw their gains in Norfolk limited, losing Norfolk North despite a win in it's North West seat. Despite London putting Labour over the line, they suffered a number of bruising losses, losing 11 seats to the Conservatives, with the most symbolic loss being Stephen Twigg's loss in Enfield Southgate, the seat sensationally lost by Michael Portillo in the "Portillo Moment" of 1997. The Tories also made small inroads in the Midlands, winning back seats like Tatton, Shrewsbury and Stafford, but failing to make much of an impact in Derbyshire and Leicestershire. Despite these results, Conservative leader and Yorkshireman William Hague will likely be disappointed that his party was unable to make an impact in his home region, winning only four seats in West Yorkshire and none in South Yorkshire.
In a good night for the Liberal Democrats, the most sensational results were seen in the South West of England, where the Lib Dems gained 9 seats, taking them to 24 in the face of a stark decline in Labour and Conservative seats. Charles Kennedy. They also ran a strong second in a number of seats, including Tory chairman Michael Ancram's constituency of Devizes. As well a breakthrough in rural Tory seats, the Lib Dems also saw a breakthrough in Labour-held urban seats, winning seats in Aberdeen, Birmingham and in Greater Manchester on a much larger swing than expected. In Wales and Scotland, where Blair suffered from the sacking of his popular Scottish Chancellor, the Tories made a modest recovery from the total obliteration, gaining two seats in each nation and making a substantial recovery in the Scottish Highlands, where they could easily make more gains from the SNP.
In Northern Ireland, the Ulster Unionist Party suffered a major setback, losing four seats of their 10 and the overall majority of Northern Irish seats, as the Euro-sceptic and socially conservative DUP surged by 8% in the polls and gained 3 seats. The nationalist absentionist party Sinn Fein also saw big gains, winning four seats and almost 22% of the vote, polling ahead of the SDLP for the first time.
Northern Irish results

UUP: 6 (-4)
DUP: 5 (+3)
SF: 4 (+2)
SDLP: 3 (-)