A-team

Posts: 292
Joined: Wed Dec 09, 2020 5:19 am
XP: 14
Trait(s): None
Discord username: Blakesley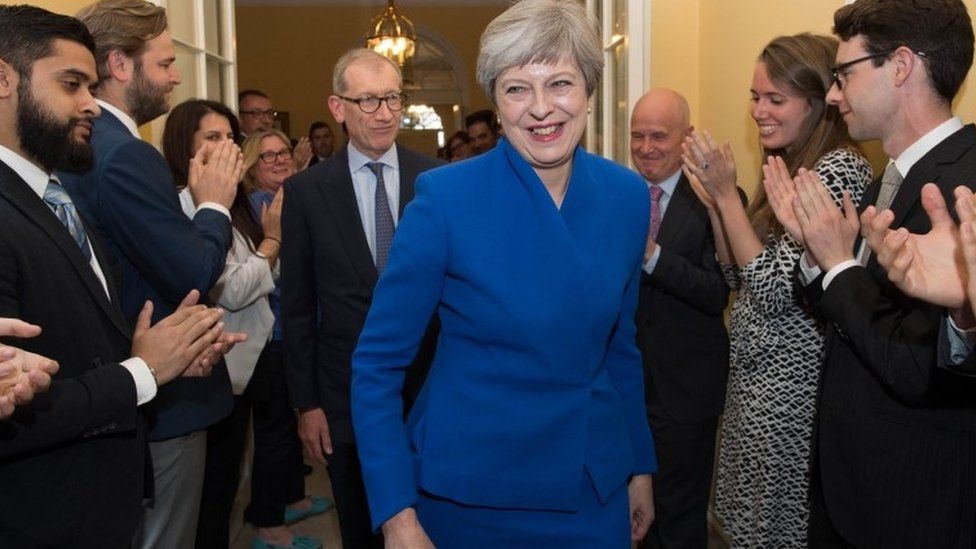 May to form 'government of certainty' with DUP backing
9 June 2017
Theresa May has said she will put together a government with the support of the Democratic Unionists to guide the UK through crucial Brexit talks. Speaking after visiting Buckingham Palace, she said only her party had the "legitimacy" to govern, despite falling eight seats short of a majority. Later, she said she "obviously wanted a different result" and felt "sorry" for colleagues who lost their seats. The Tories needed 326 seats to win another majority but they fell short and must rely on the DUP to continue to rule.
In a short statement outside Downing Street after an audience with the Queen, Mrs May said she would join with her DUP "friends" to "get to work" on Brexit. Referring to the "strong relationship" she had with the DUP but giving little detail of how their arrangement might work, she said she intended to form a government which could "provide certainty and lead Britain forward at this critical time for our country". May continued: "Our two parties have enjoyed a strong relationship over many years and this gives me the confidence to believe that we will be able to work together in the interests of the whole United Kingdom."
It is thought Mrs May will seek some kind of informal arrangement with the DUP that could see it "lend" its support to the Tories on a vote-by-vote basis, known as "confidence and supply".
DUP leader Arlene Foster confirmed that she had spoken to Mrs May and that they would speak further to "explore how it may be possible to bring stability to this nation at this time of great challenge". While always striving for the "best deal" for Northern Ireland and its people, she said her party would always have the best interests of the UK at heart.
Scottish Conservative leader Ruth Davidson has since sought assurances from Mrs May that any deal with the DUP will not affect LGBTI rights across the UK. Northern Ireland is the only part of the UK where same-sex marriage is not legal. A source close to Ms Davidson, who is gay, told the BBC: "The PM needs to remember there are more Scottish Conservatives than DUP MPs."
Labour leader Jeremy Corbyn has denounced Mrs May's plan to head up a minority government, calling for her to "make way" for a government that would be "truly representative of the people of this country". He said Labour was ready to form a minority government of its own, after far exceeding expectations by picking up 30 seats in England, Wales and Scotland. But even if it joined together in a so-called progressive alliance with the SNP, Lib Dems, Green Party and Plaid Cymru, it would only reach 314 seats - short of the 326 figure needed. "We are ready to serve the people who have put their trust in us," he said, while stressing he would not enter into any "pacts or deals" with other parties.
The SNP remains the largest party in Scotland but lost 21 seats to the Tories, Labour and the Lib Dems. Leading figures in the party such as Alex Salmond and Angus Robertson were defeated. First Minister Nicola Sturgeon said her party's plans for a second independence referendum were "undoubtedly" a factor in the results, and she would "reflect carefully". Ruth Davidson - whose Scottish Conservatives went from one seat to 13 - said Ms Sturgeon should now take a second referendum "off the table".
The Tories are on 318 seats, ahead of Labour on 262 following its late win in Kensington, the SNP 35 and the Lib Dems on 12. The DUP won 10 seats. As it stands, the Tories and the DUP would have 328 MPs in the Commons, giving it a wafer-thin majority although as Sinn Fein will not be taking its seven seats, the new administration will have slightly more room for manoeuvre.
Labour MP

Posts: 158
Joined: Mon Feb 08, 2021 10:15 pm
Constituency: Bishop Auckland
XP: 0
Trait(s): None
Discord username: Croslandfan
London fire: Six killed as Grenfell Tower engulfed
June 2017
At least six people have died after a huge fire raged through the night at a west London 24-storey tower block, and police expect that number to rise.
Eyewitnesses described people trapped in the burning Grenfell Tower, in north Kensington, screaming for help and yelling for their children to be saved.
Firefighters, who rescued many people, were called at 00:54 BST and are still trying to put out the fire. Police say there may still be people in the building who are unaccounted for. The ambulance service said 68 patients had been taken to six hospitals across London, with 18 in critical care. A further 10 patients made their own way to hospital.
During the night, eyewitnesses said they saw lights - thought to be mobile phones or torches - flashing at the top of the block of flats, and trapped residents coming to their windows - some holding children.
It is understood that "several hundred" people would have been in the block when the fire broke out shortly after midnight, most of them sleeping.
Commander Stuart Cundy, of the Metropolitan Police, said the recovery operation would be "complex and lengthy", and the number of fatalities was expected to rise.
Prime Minister Theresa May is "deeply saddened by the tragic loss of life", said Downing Street.
Health Secretary Jeremy Hunt praised the "heroic" response from the emergency services and the NHS hospital staff "working tirelessly to help".
Meanwhile, Labour leader Jeremy Corbyn is to demand a government statement in Parliament on Thursday on the tragedy, the BBC understands. He has also called for a "full inquiry" into the fire, saying that "This must never happen again."
Mayor Sadiq Khan said he was devastated by the horrific scenes, attended by more than 250 firefighters and 100 ambulance medics.
Questions will need to be answered over the safety of tower blocks, he told BBC Radio.
"We can't have a situation where people's safety is put at risk because of bad advice being given or if it is the case, as has been alleged, of tower blocks not being properly serviced or maintained," he said.
Matt Wrack, of the Fire Brigades Union said something had clearly gone badly wrong with fire prevention procedures at the building.
Firefighters would normally fight a fire in a tower block from the inside, going up the fire escape, and fighting using the internal dry-rising mains, he said, but that's not been possible in this case.
Construction firm Rydon said recent building work which it carried out on the block "met all required building control, fire regulation and health and safety standards".
But before and during the refurbishment, the local Grenfell Action Group claimed that the block constituted a fire risk and residents warned that site access for emergency vehicles was "severely restricted".
Adopted from here
Dame Amelia Lockhart
Labour MP for Bishop Auckland (1992 - )
Labour MP

Posts: 158
Joined: Mon Feb 08, 2021 10:15 pm
Constituency: Bishop Auckland
XP: 0
Trait(s): None
Discord username: Croslandfan
England hospital waiting list highest in over a decade


June 2018
The number of people waiting for a hospital operation in England is at its highest since 2007. An estimated 4.2 million people were waiting to be seen in April.
The figures showed growing numbers waiting more then 18 weeks, the target time for treatment, including people seeking cataract surgery, back surgery and hip replacements. The number of patients now waiting longer than they should has topped more than 500,000 for the first time since 2008.
These rising numbers come after the NHS was forced to postpone thousands of operations in the winter. The action was taken to relieve the pressure on A&E departments.
The Royal College of Nursing said "cancelling non-urgent care may have helped the NHS fight through one of the worst winters in recent memory, but it is patients who are paying the price now - on the 70th anniversary of the NHS - with delays for elective surgery. Chronic staff shortages and years of underfunding have created a toxic mix for hospitals.
NHS Providers, which represents hospitals, described the rising numbers as "extremely worrying". They highlighted the continued missed targets in cancer diagnosis and treatment, and those for A&E. The organisation said they demonstrated the need for "substantial additional services to be provided to hospitals as part of a long-term funding settlement to increase care, improve quality, and help staff."
Dame Amelia Lockhart
Labour MP for Bishop Auckland (1992 - )
A-team

Posts: 292
Joined: Wed Dec 09, 2020 5:19 am
XP: 14
Trait(s): None
Discord username: Blakesley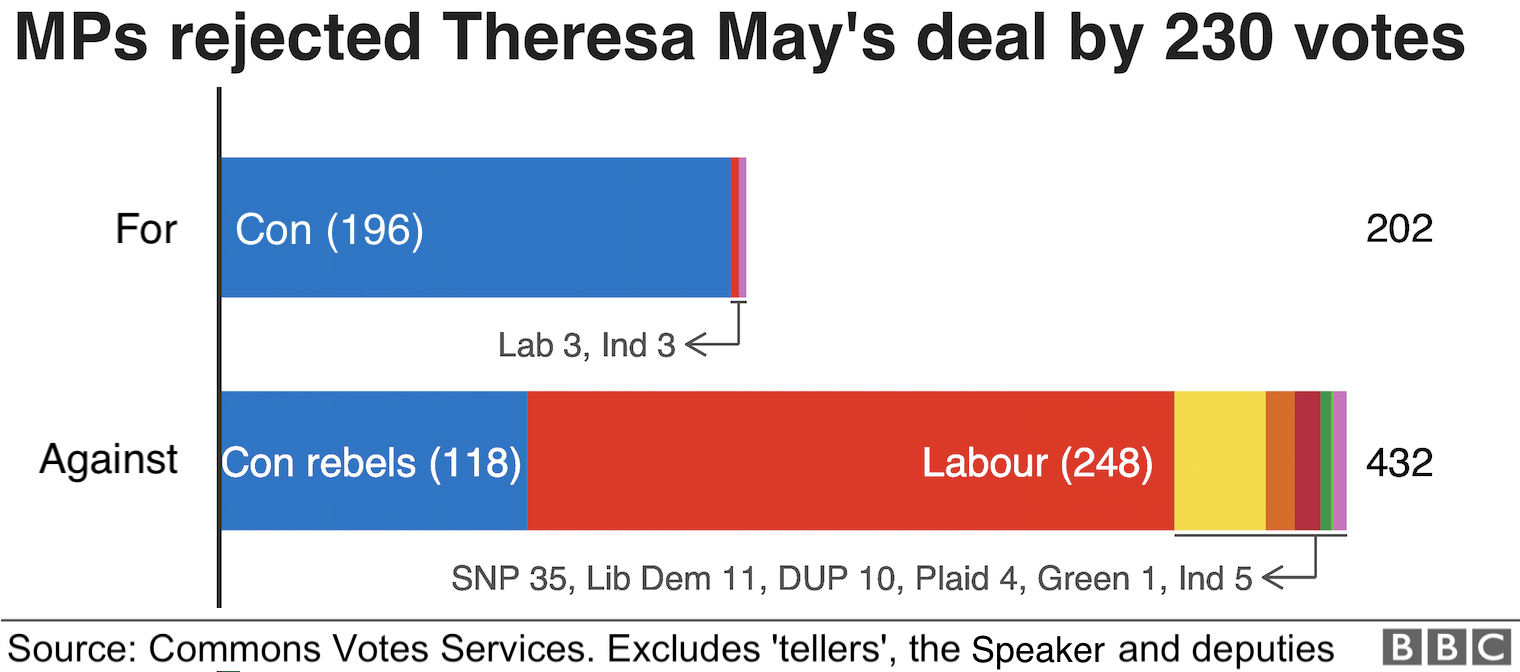 Theresa May's deal is voted down in historic Commons defeat
January 2019
Prime Minister Theresa May's Brexit deal has been rejected by 230 votes - the largest defeat for a sitting government in history. MPs voted by 432 votes to 202 to reject the deal, which sets out the terms of Britain's exit from the EU on 29 March. Labour leader Jeremy Corbyn has now tabled a vote of no confidence in the government, which could trigger a general election. The defeat is a huge blow for Mrs May, who has spent more than two years hammering out a deal with the EU. The UK is still on course to leave on 29 March but the defeat throws the manner of that departure - and the timing of it - into further doubt.
118 Conservative MPs - from both the Leave and Remain wings of her party - voted with the opposition parties against Mrs May's deal. Three Labour MPs supported the prime minister's deal: Ian Austin (Dudley North), Kevin Barron (Rother Valley) and John Mann (Bassetlaw).
The most controversial sticking point was the issue of the Northern Irish backstop - the fallback plan to avoid any return to physical border checks between the country and Ireland. Mrs May had hoped new assurances from EU leaders this week, saying the backstop would be temporary and, if triggered, would last for "the shortest possible period", would help her garner more support. But in the debate leading up to the vote, members from all sides of the House said the move did not go far enough.
MPs who want either a further referendum, a softer version of the Brexit proposed by Mrs May, to stop Brexit altogether or to leave without a deal, are expected to ramp up their efforts to get what they want, as a weakened PM offered to listen to their arguments. Mrs May signalled her intention to carry on in a statement immediately after the vote. "The House has spoken and this government will listen," she told MPs. She offered cross-party talks to determine a way forward on Brexit, if she succeeded in winning the confidence vote.
Former foreign secretary and leading Brexiteer Boris Johnson said it was a "bigger defeat than people have been expecting" - and it meant Mrs May's deal was now "dead". But he said it gave the prime minister a "massive mandate to go back to Brussels" to negotiate a better deal, without the controversial Northern Ireland backstop. However, government minister Rory Stewart said there was no majority in the Commons for any Brexit plan, including another referendum. "There may not be a way forward on Brexit unless dramatic steps are taken to bring people in line with a workable plan that can accomplish the core tenants that were laid out," said Mr Stewart after the vote.
Labour MP Chuka Umunna said that if his leader did not secure a general election, Mr Corbyn should do what the "overwhelming majority" of Labour members want and get behind a further EU referendum. Lib Dem leader Sir Vince Cable, who also wants a second referendum, said Mrs May's defeat was "the beginning of the end of Brexit" - but conceded that campaigners would not get one without Mr Corbyn's backing. Scotland's First Minister Nicola Sturgeon said Mrs May had suffered "a defeat of historic proportions" and called again for the Article 50 "clock to be stopped" in order for another referendum to take place.
In her statement to MPs, Mrs May said she planned to return to the Commons next Monday with an alternative plan - if she survives the confidence vote - and that she remains committed to delivering the result of the 2016 referendum.
Adopted from here.
Blakesley
Treasury | Labour
A-team

Posts: 292
Joined: Wed Dec 09, 2020 5:19 am
XP: 14
Trait(s): None
Discord username: Blakesley
This is a placeholder for Change UK part one.
Blakesley
Treasury | Labour
A-team

Posts: 292
Joined: Wed Dec 09, 2020 5:19 am
XP: 14
Trait(s): None
Discord username: Blakesley
This is a placeholder for Change UK part two.
Blakesley
Treasury | Labour
A-team

Posts: 292
Joined: Wed Dec 09, 2020 5:19 am
XP: 14
Trait(s): None
Discord username: Blakesley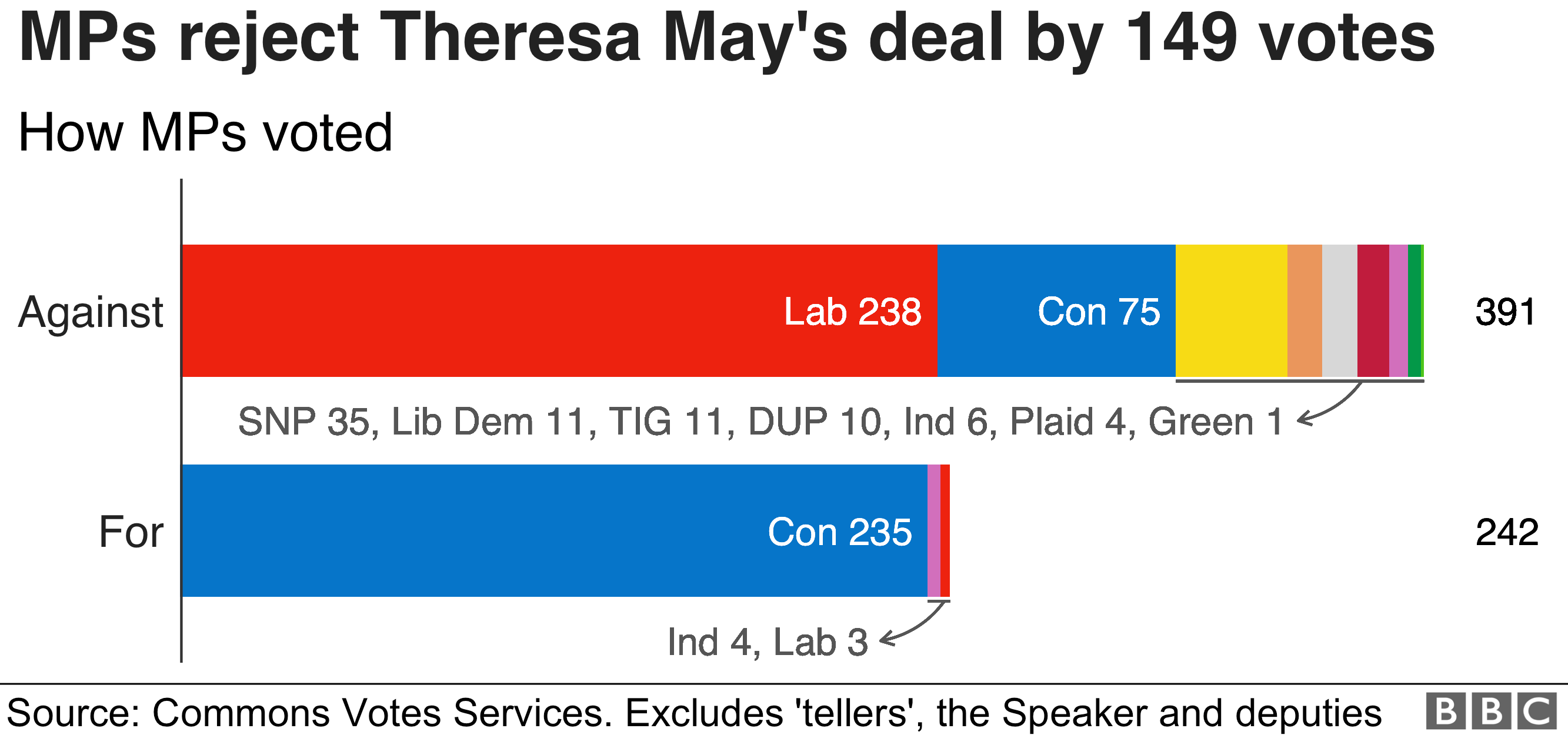 MPs reject Theresa May's deal for a second time
13 March 2019
Theresa May's EU withdrawal deal has been rejected by MPs by an overwhelming majority for a second time, with just 17 days to go to Brexit. MPs voted down the prime minister's deal by 149 - a smaller margin than when they rejected it in January. Mrs May said MPs will now get a vote on whether the UK should leave the EU without a deal and, if that fails, on whether Brexit should be delayed.
The PM had made a last minute plea to MPs to back her deal after she had secured legal assurances on the Irish backstop from the EU. Although she managed to convince about 40 Tory MPs to change their mind, it was not nearly enough to overturn the historic 230 vote defeat she suffered in January, throwing her Brexit strategy into fresh disarray.
In a statement after the defeat, Mrs May said: "I continue to believe that by far the best outcome is the UK leaves the European Union in an orderly fashion with a deal. And that the deal we have negotiated is the best and indeed only deal available." Setting out the next steps, she said MPs will vote on Wednesday on whether the UK should leave the EU without a deal or not. If they vote against a no-deal Brexit, they will vote the following day on whether Article 50 - the legal mechanism taking the UK out of the EU on 29 March - should be extended.
Mrs May said MPs would have to decide whether they want to delay Brexit, hold another referendum, or whether they "want to leave with a deal but not this deal". She said that the choices facing the UK were "unenviable", but because of the rejection of her deal, "they are choices that must be faced". Mrs May also told MPs the government would announce details of how the UK will manage its border with Ireland in the event of a no-deal Brexit on Wednesday. Mrs May also intents to hold urgent discussions with Irish Taoiseach Leo Varadkar on changes that can be made to the deal and planning for a no-deal Brexit.
There appears to be discord in the Cabinet on how to move forward. Some of Mrs May's colleagues around the Cabinet table think it shows she has to tack to a closer deal with the EU. Some of them believe it's time now to go hell-for-leather to leave without an overarching deal but move to make as much preparation as possible, and fast. Other ministers believe genuinely, still with around two weeks to go, and an EU summit next week, there is still time to try to manoeuvre her deal through.
Labour leader Jeremy Corbyn said the prime minister should now call a general election. "The government has been defeated again by an enormous majority and it must accept its deal is clearly dead and does not have the support of this House," he told MPs. He said a no-deal Brexit had to be "taken off the table" - and Labour would continue to push its alternative Brexit proposals. He did not mention the party's commitment to back another referendum.
The EU's chief Brexit negotiator Michel Barnier said in a tweet: "The EU has done everything it can to help get the Withdrawal Agreement over the line. The impasse can only be solved in the UK. Our 'no-deal' preparations are now more important than ever before." A spokesman for European Council president Donald Tusk echoed that message, saying it was "difficult to see what more we can do. With only 17 days left to 29 March, today's vote has significantly increased the likelihood of a no-deal Brexit."
The PM's deal was defeated by 391 to 242. Some 75 Conservative MPs voted against it, compared with 118 who voted against it in January. The Democratic Unionist Party's 10 MPs also voted against the deal, as did the Labour Party, SNP and other opposition parties. Three Labour MPs - Kevin Barron, Caroline Flint and John Mann - voted for the prime minister's deal.
Adopted from here
A-team

Posts: 292
Joined: Wed Dec 09, 2020 5:19 am
XP: 14
Trait(s): None
Discord username: Blakesley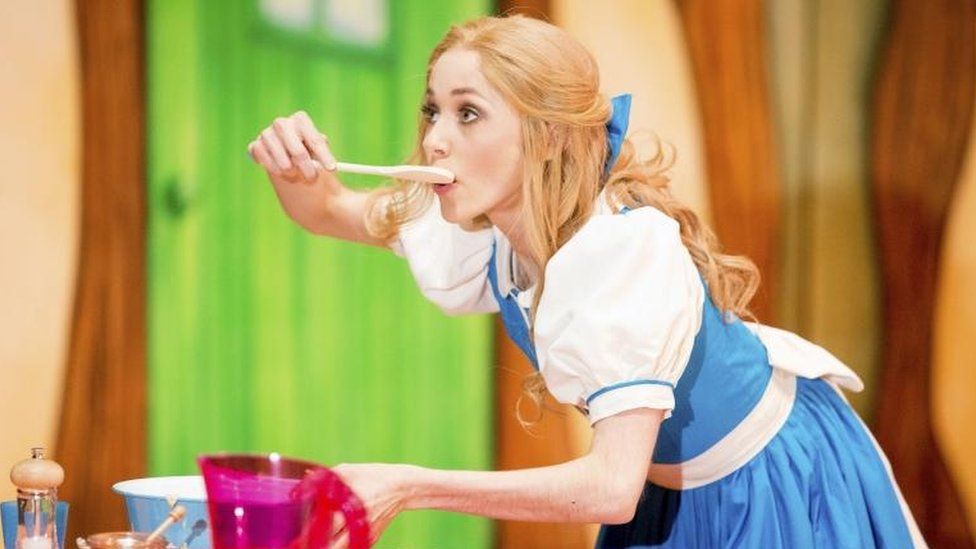 Is the UK economy too hot, too cold, or just right?

What's going on with the UK economy?
March 2019
More than 1,000 days since the referendum, and with the clock ticking down to 29 March, the path of Brexit remains unclear. Ahead of the 2016 vote, the Treasury warned that leaving could damage the economy. And yet, for all the political turmoil and uncertainty, the economy continues to trundle along - and appears to be doing very well on some fronts.
Almost 30 years ago, US economist David Shulman introduced the phrase "Goldilocks economy" to describe one that's neither blowing too hot nor cold but expanding at just the right pace, with good jobs growth. Does that apply to the UK? Employment is at record highs, unemployment at its lowest for almost 45 years. Wages are growing at their fastest rate for a decade, with pay rises typically outpacing the cost of living.
If the jobs market was a bowl of fairy tale porridge, it might be Daddy Bear's blisteringly hot serving, steaming away with few signs of damage from the Brexit "fog". But hiring tends to lag behind changes in activity by between six and nine months on average, while firms determine whether changes in circumstances are permanent, and then recruitment (or redundancy) takes time. After the financial crisis, firms opted to hang on to workers as they were relatively cheap compared with investing; the same could be happening again as they grapple with uncertainty. And while real wages are rising, they have only resumed that growth in recent months; the average post-inflation wage is still £7 a week lower than it was a decade ago.
The economy expanded by 0.2% in the latest three months - and by 1.4% across 2018; steady but lacklustre. GDP growth is the Mummy Bear porridge bowl - disappointingly lukewarm. As the Bank of England noted, expansion has been held back by a lack of business investment since the referendum - and also by a slowdown in our major trading partners, particularly China and the EU. As the chancellor has said, the UK is in "the middle of the G7 pack" growth-wise. But it could have been better - various estimates suggest that the economy is up to 2% smaller post-referendum than it previously expected. And even with a deal, the Treasury, the Bank of England and the City are broadly agreed that the UK could be on track for the weakest growth this year in a decade.
With prices rising by 1.9% in the year to February - within a whisker of the official target of 2% - inflation appears to be the Baby Bear bowl of the bunch: just right. Prices are rising sufficiently to signify there's life in the economy but not so fast to be punitive or destabilising. But that doesn't mean inflation can be ignored, which brings us to…
Could an interest rate rise be on the way? For over a decade, the base rates set by the Bank of England have been below 1%; great news for borrowers, less so for savers. The Bank sets those rates to keep inflation close to its target in two years' time - that's how long it estimates it takes for interest rates to influence prices (largely via the spending and borrowing habits of households and businesses). If the trend of faster real wage growth continues and a Brexit deal is swiftly agreed, with little disruption to the economy, some economists think there could be a small rate rise later this year. That's quite a few ifs. With prolonged uncertainty, or a disruptive exit, some argue that the next move in interest rates may be down rather than up.
So, overall, where are we? For now, the economy's in a decent state. But not all fairy tales have happy endings. The last time the US economy was widely deemed to be in a Goldilocks state, the financial crisis swiftly followed. With much of the global economy slowing again, and the risk of a disruptive Brexit lingering, the UK economy could be in for a few twists and turns.
A-team

Posts: 292
Joined: Wed Dec 09, 2020 5:19 am
XP: 14
Trait(s): None
Discord username: Blakesley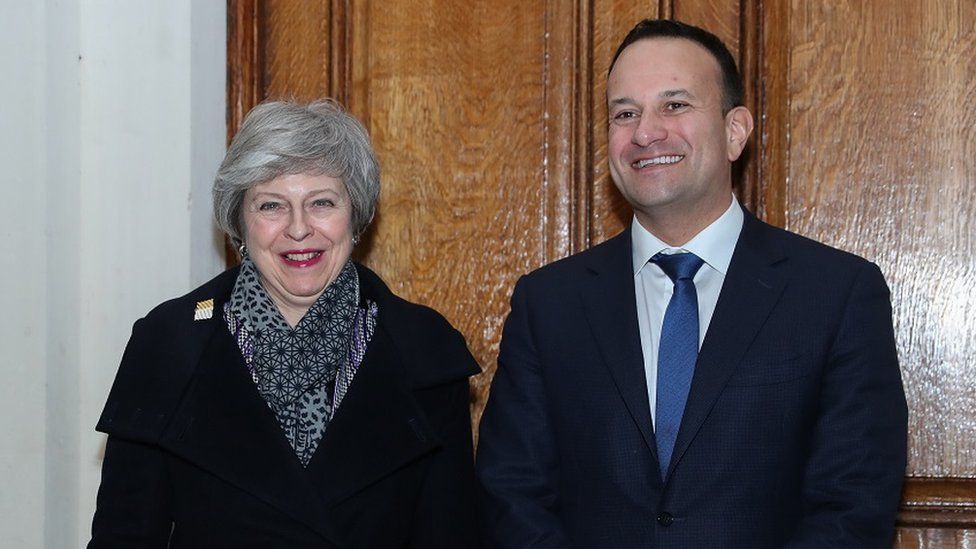 May and Varadkar see path to a deal after Belfast meeting


March 2019
Following a summit at Hillsborough Castle, Prime Minister Theresa May and Irish Taoiseach Leo Varadkar both said that they "see a way forward" on an alternative backstop for Northern Ireland. Brexit secretary Stephen Barclay released a document outlining the government's plan for a single regulatory area on the island of Ireland. The plan would see Northern Ireland stay in the European single market for goods, but leave the customs union - resulting in new customs checks.
Speaking on his return to Dublin, Mr Varadkar said that they weren't there yet, but a lot of barriers had been removed. Mr Varadkar said the new blueprint did not "fully meet the agreed objectives of the backstop", in terms of upholding the EU's single market, protecting peace in Northern Ireland and supporting economic co-operation with the Republic of Ireland. "It's certainly possible that we get to a deal before March 31," he concluded.
In a sign of softening, former foreign secretary Boris Johnson said that there could be a path forward with the proposal released by Mr Barclay. Arch-Brexiteers Jacob Rees-Mogg and and Steve Baker said that the deal was unworkable and that no deal would be the preferred outcome, given the options. Don Valley MP Caroline Flint added that "this is a deal I can get behind - it's time to get on with it".
Other options floated included the UK-wide backstop, which was rejected by Parliament in two votes earlier this year, or a Northern Ireland-only backstop, which was deemed unworkable by the Northern Ireland unionist parties, including the DUP which Mrs May relies on for confidence. The proposal floated by the government would see the Northern Ireland Assembly get to approve the arrangements first and vote every four years on keeping them, which DUP leader Arlene Foster said was not ideal, but potentially agreeable.
Many Brexit supporters say what are known as "alternative arrangements" could be used to avoid checks at the border. The phrase is normally used to refer to technical or technological solutions. These include things like trusted traders schemes and using GPS to track lorries. The EU has committed to working on alternative arrangements but has said no systems which could solve the border problem are currently "operational".
Speaking from Brussels, Jean-Claude Juncker, the European Commission President, welcomed what he said were "positive advances" in some areas but he said the UK's proposed system of "governance" of the new arrangements was "problematic" - and customs rules remained a concern. Chief EU negotiator Michel Barnier said, "there is progress, but lots of work still needs to be done."
The government aims to complete a Northern Ireland deal before a third meaningful vote on Brexit occurs at the end of March. The House may also consider a round of "indicative votes" to see if there is a majority for an alternative agreement.
Analysis from Laura K.
There's big movement on the Brexit front as Theresa May makes several steps forward, and none backwards, following her meeting with Leo Varadkar in Belfast. The softening of opposition to her Brexit proposals is notable, not only in her party, but also in Labour. The next two weeks will certainly be turbulent in Westminster.